Select "Elmedia Player" –> "About Elmedia Player" option from the main menu. If you are using PRO version, you will see your registration name and the license type specified in the "About" screen.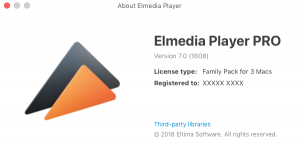 Additionally, if you have PRO version, "Activate PRO version" menu option is changed to "Change License Type".
Purchase PRO Version
"Purchase PRO Version" menu option is always available, no matter what Elmedia Player version you have (free or PRO). It is needed in case you decide to change the license type you own (for example, Personal License to Company License). To see all license types available for Elmedia Player, visit https://mac.eltima.com/media-player-pro.html.
In PRO version of Elmedia Player all PRO version features become available.