Meet FlexiHub 3.0
After months of hard work, we have released FlexiHub 3.0 on November 22, 2016. This version comes with a slew of performance optimizations as well as some powerful new functionality designed to make the software even more flexible and convenient.
Backward compatibility
Due to substantial changes in the protocol, version 3.0 is not backward compatible, and you are required to update in order to continue using FlexiHub.
All DevKit users should update to the latest DevKit version.
What has changed
Apart from numerous performance optimizations not directly noticeable to users, FlexiHub 3.0 introduces a new piece of functionality: the ability to send connection invites to other FlexiHub users.
The concept of invites significantly facilitates collaboration with other FlexiHub users, as it relieves you of the need to share your account credentials with other people while also giving you fine-grained control over who can access each of your devices.
To invite someone to connect, simply select a device and enter the other person's email address: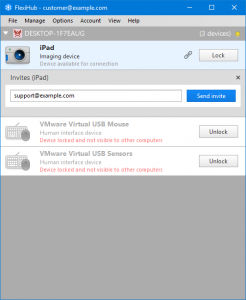 The other person will receive your invitation and will need to accept it to start using your device: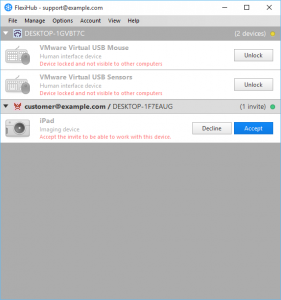 Note: All accepted invites count toward the number of active nodes associated with your account and are therefore subject to your subscription limitations.