Sync data between your Mac and Windows Mobile device using Bluetooth
(for devices running Windows Mobile 6, 6.1 and 6.5).
Setup for using Bluetooth connection:
1. First of all you should pair your Mobile device with Mac. We recommend you to configure pairing from your Mac computer (go to System Preferences > Bluetooth >Â Set up New Device).
2. Then click "Add connection" button to invoke "Device connection Wizard" in SyncMate, select "Windows Mobile Device(Bluetooth)"
If SyncMate driver is not installed on your mobile device, then you may send this driver via Bluetooth*.
*If there are some issues with sending SyncMate driver via Bluetooth from SyncMate, you can find it in Applications -> Syncmate.app -> mouse right click -> Show package content -> Resources -> SyncMate.arm.CAB then manually copy this file to your mobile device and launch it. SyncMate will be installed on the device.
3. Launch SyncMate driver on your mobile device and check "Bluetooth" option.
4. Finally, go to your Mac bluetooth settings -> select your Mobile device -> Connect to Network.
Click "Finish" button. If connection was successful, you will see your mobile device in "Devices list" area.
Possible issues and their solutions:
Bluetooth connection failure between SyncMate and Windows Mobile device is possible if vendor's Bluetooth stack is installed on mobile device, not Microsoft Bluetooth stack. You can check whether connection via Bluetooth can be established with your Windows Mobile device.
1. Press Bluetooth icon in status bar
2. Open Bluetooth Preferences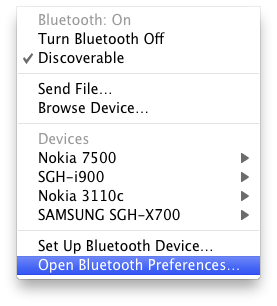 3. Select your Windows Mobile device. Choose "Showmoreinfo" from the drop-down menu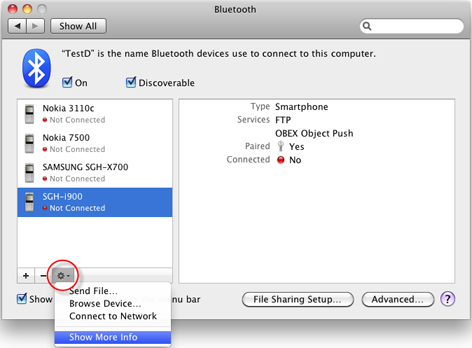 4. Make sure that the following services are present in the list:
a. Active Sync Bluetooth Service
b. Network Access Point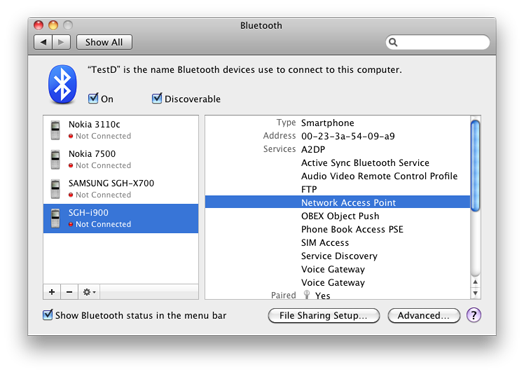 If these services are not present in the list then Bluetooth connection failure is possible.