CloudMounter Preferences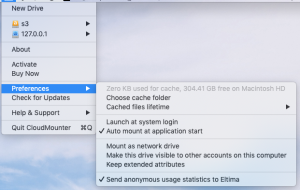 Choose cache folder – allows choosing cache folder on a different disk. The above line displays cache state for the chosen drive where you can see the used amount of space by cache and the storage capacity of the chosen drive.
Сached files lifetime – cached files are automalically deleted when the time set in this option runs out.
Launch at system login – make CloudMounter start automatically when you log into your Mac.
Auto mount at application start – automatically mount all your servers and storages when CloudMounter starts. If this option is unchecked, you can mount the required items manually by selecting them in the list and clicking Mount:
Mount as a network drive – allows mounting clouds as network drives. If this option is disabled the system detects drives as local ones and not as network drives. In such case, all the drives of CloudMounter will be presented in the Device Tab in Finder Sidebar.

Note:

This feature is available for the onsite version of CloudMounter and for the

installed FUSE

Make this drive visible to other accounts on this computer – makes all the drives visible to all the users of this Mac. If this option is disabled, the drives are visible only to the user who launched the app.

Note:

This feature is available for the onsite version of CloudMounter and for the

installed FUSE

Keep extended attributes – preserve extended attributes for all uploaded files. Extended attributes are textual name-value pairs that can be associated with files to describe them beyond what the standard filesystem attributes provide. They may be valuable for storing information such as, for instance, the author of a document, or the tags or comments pertinent to a file. If this option is disabled, extended attributes on files will be cached and appear to work locally, but none of them will actually be persisted on the remote server. This option can be enabled/disabled for a specific type of connection.

Tip:

For displaying and manipulating extended attributes on macOS, the

xattr

command is typically used.
Content refresh interval – choose the refresh interval of the content for each connection.
Send anonymous usage statistics to Eltima – help us improve the software by sending usage statistics. No personal information is collected (see our Privacy Policy for details).