What is Clox?
Clox is a widget for Mac OS X, permitting to view time in different skins. It is not a problem anymore to have multiple clocks on your desktop set to different time zones.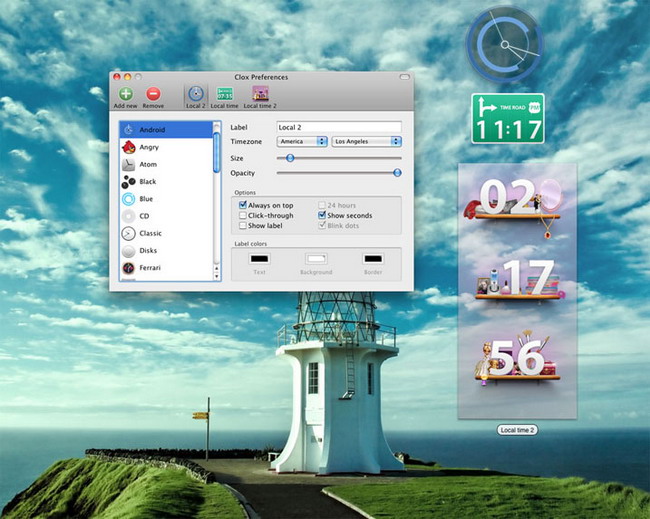 You can customize the clock settings to perform a variety of functions, such as load at start-up, show seconds, use 24-hour format, etc.
Add clock
You can create a new clock by choosing one of the themes (see the panel to the left) or by clicking "Add new" button (the default Eltima's skin will be used).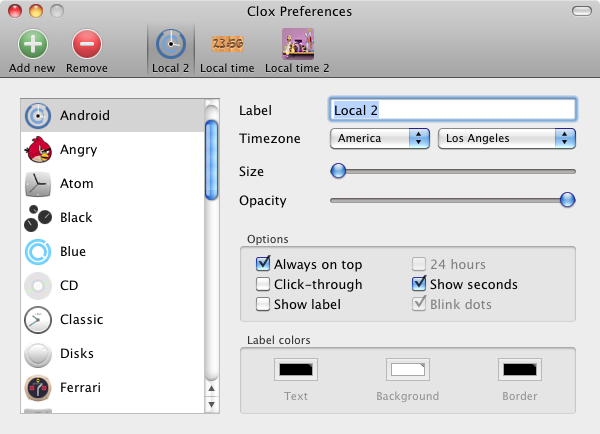 Customize clock
Name your clock – do it in "Label" field. You can set the label to be displayed under the clock on your desktop:

You can change the color settings in the lowest panel (Label colors).
Set timezone – choose the required continent and city in the corresponding drop-down menus.
Resize clock – drag the slider to make the clock evenly larger or smaller.
Adjust opacity – drag the corresponding slider to customize the degree of transparency.
Customize the clock view:
Always on top – Make Clox be on top of all other programs even when it is not in the focus.
Click-through – Allow mouse clicks to pass through the clock.
Show label – Display the clock name on the desktop under the clock.
24-hour – Check it to display time in 24-hour format. Uncheck it to convert time into 12-hour format.
Show seconds – Show the seconds or the second hand on the clock.
Blink dots – Set the dots on the digital clock to blink.

Launch Clox at the system start-up
Click Autostart option in Clox's Status Bar menu: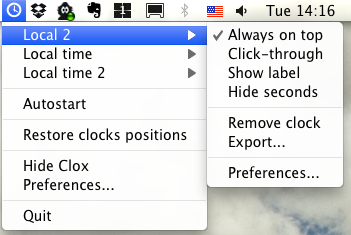 Save settings
You can export Clox's settings and then bring them to another Mac and import there. For this purpose use "Export" option from Clox's Status Bar menu. The settings will be saved to a file with .clock suffix. To import the settings, just drop this file at Clox's icon in the Dock.
Uninstallation
/wiki/user-guides/uninstall-mac.html