Note:
This functionality is available only in Elmedia Player PRO distributed through our
website
. Please see
this
comparison chart if you use a different edition.
In browser mode you can watch online videos from the Elmedia Player interface as if you were using a web browser. Here is how to use it:
1. Select Window → Browser in the main menu.
2. Enter a URL and press Enter: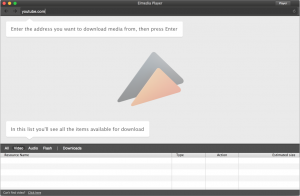 3. Select a video and watch it as usual: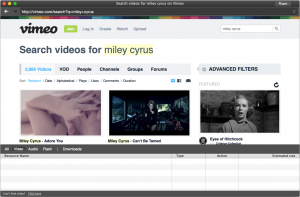 4. To download a video, select the file you want to download from the list under the video and click Download.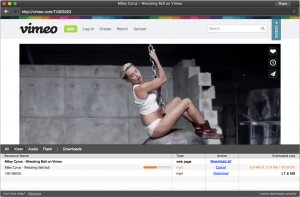 By default all your files are saved under Downloads. This can be changed on the General tab in Preferences.
If you cannot find the video to download, try the following:
Make sure the Video filter is chosen. Also, try switching between different filters. The video might also be under the All tab.
Play the video first. The data about this video will be updated and it will become available for download.
Uncheck the Elmedia Player → Disable Plugins option in the main menu and reload the page.
Sometimes Elmedia cannot detect the video to download in case it is streaming video. Note, that at this moment, Elmedia supports capture of files transferred only over 'plain' RTMP. Capture of files transferred over RTMP Tunneled (RTMPT), RTMP Secure (RTMPS) and RTMP Encrypted (RTMPE) is not currently supported by Elmedia. Currently Elmedia Player does not feature downloading of live RTMP stream (e.g. stream from web cameras, etc.). Elmedia Player PRO also does not support download of MPEG Transport Stream videos. Try to update the browser window. It should help Elmedia to detect the video to download. – If you still do not see the video for download in the list of available files, send the URL to our support team at support@eltima.com, and we will check what might be wrong.
5. Once the download is complete, you can play the downloaded file locally (from your hard drive) by clicking Play next to it.
Note: Now videos can be downloaded with Folx (via the context menu) to speed up the download: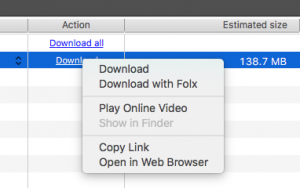 See also: