You can customize Elmedia Player settings in "Preferences" window, invoked from Main menu. "Preferences" window consists of several tabs:

General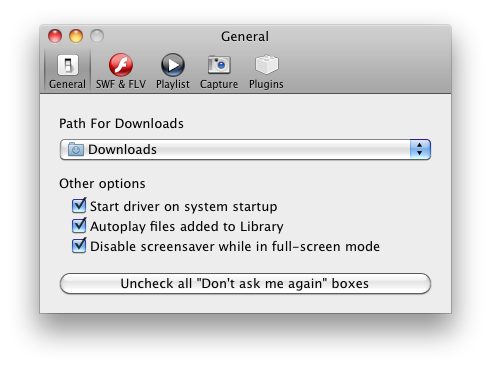 Path For Downloads:

Choose the folder where your downloads will be stored into.

Other options:

Start driver on system startup : Elmedia Player driver monitors and catches URLs, for example, if a SWF file requires external resources. This option permits to enable Elmedia Player driver when the system is started. Otherwise, you will be offered to launch the driver simultaneously with Elmedia Player. "Start driver on system startup" option is enabled by default.

Autoplay files added to Library : If this option is enabled, once a file is added to Library, it will start playing automatically.

Disable screensaver while in full-screen mode : If this checkbox is ticked, a screensaver will not be available when Elmedia Player plays files in full-screen mode.

Uncheck all "Don't ask me again" boxes : Click this button to get a warning message where you will have to confirm your actions each time you perform certain steps, for example, when you delete a playlist.

SWF & FLV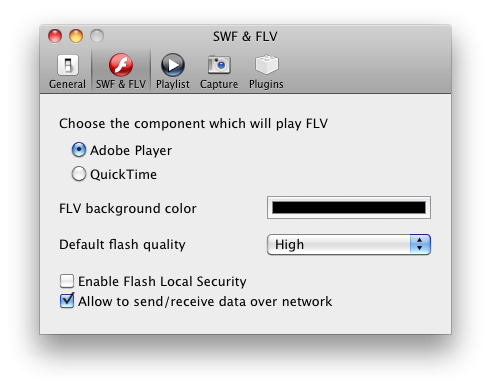 Choose the component which will play FLV: Adobe Player or QuickTime. By default FLV files are played by Adobe Player.

Note:

To play FLV files with QuickTime component, Perian plugin should be installed. Go to

Plugins tab

of Elmedia Player Preferences to download or update plugins, required for correct files playback.

FLV background color

You can change background color for FLV files playback. This option is available only for FLV files played by Adobe Player (see "Choose the component which will play FLV" option above).

Default flash quality

You can specify the quality a Flash movie will be played at: Low, Medium or High. The advantage of low quality mode is that it reduces CPU load and playback becomes very smooth. On the other hand, it essentially decreases movie quality. The specified value will be applied just on the go, if a Flash movie is currently played. In addition, this value will be selected automatically each time any Flash movie is played.

Enable Flash Local Security

Use this option to specify whether SWF or FLV content that uses older security rules can access the Internet. Using the older security system can be potentially dangerous. If you enable this option, every time when a SWF or FLV file on the web or on your local computer will try to load external resources from the Internet, your will get a warning message, where you can modify security settings. For details see What are security settings?

Notes:

– If you allow access to external resources, you won't see this warning message again. However, you can enable "Always ask" option in the Settings Manager of Adobe Flash Player (at the Global Security Settings panel).

– If you do not allow access to external resources, it is possible that SWF or FLV content will not function as intended.

– If "Allow to send/receive data over network" option is disabled, you won't get this warning message at all.

– "Enable Flash Local Security" option is disabled by default.

Allow to send/receive data over network

In case your Flash movie loads external data, such as texts, images, etc, it communicates with the world by sending and receiving network packets. This can be potentially unsafe since there is the possibility of arbitrary code execution. You can disable sending/receiving data over network. However, in this case some Flash movies may not work properly.

Playlist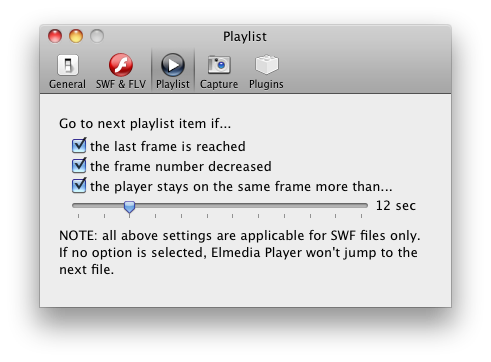 Here you can change playlist settings. Refer to "How to customize playlist settings" section for details.

Capture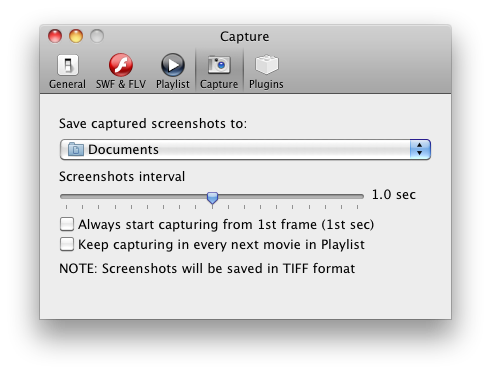 Here you can customize options for making screenshots of files:
Specify the destination folder where screenshots will be stored into.
Specify the screenshots interval in seconds by dragging the corresponding slider.
If you choose "Always start capturing from 1st frame (1st sec)" option, capture will always start from the first frame (or from the first second for FLV files). In case you are watching a video file and click "Make series of screenshots", you will notice, that playback of the file starts from the very beginning and Elmedia Player starts capturing screenshots of a file.
If you tick "Keep capturing in every next movie in Playlist", Elmedia Player will capture screenshots of all files, located in the playlist.
See also how to:

Plugins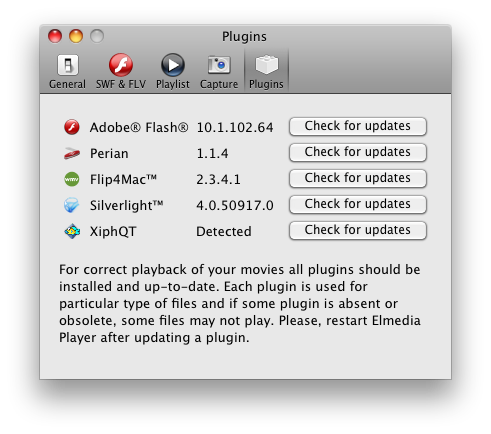 Here you can upgrade/download plugins, required for correct files playback.
---