How are files organized by Elmedia Player?
Elmedia Player permits to organize your files according to several criteria:
Library

Each file added to Elmedia Player is stored in Library. Files are grouped by their formats:

SWF
Video*
Real video
Silverlight

*Learn more about video file types, supported by Elmedia Player.

Choose "All Tracks" at Library sidebar to see all files, added to Elmedia Player.

Playlists

Along with Library, files can be organized into playlists, which is especially helpful when you have many files. There are two kinds of playlists: standard and smart.

Standard playlist is a custom selection of files. You can create a playlist to suit some occasion, to group specific kind of files (for example, your favorite pop songs), etc. Standard playlists are created by dragging items to them. Instructions can be found below in this section.

Smart playlists store files according to the parameters you set. When you add a file that matches set parameters to Library, Elmedia Player automatically adds this file to a smart playlist. To create a smart playlist, rules should be specified. Learn how to do it here.

Downloads

Here files are organized according to the date they were downloaded. As soon as files are downloaded by Elmedia Player, they are added to Library, so you can trace your downloaded files there as well. Once downloaded files are added to Library, they can be played locally.

Read "Download online" section to find out how to download files from the Internet.
---

How to create a new standard playlist?
1. Highlight the required items in List while holding Shift key, and click "New Playlist from Selection" option (Main menu –> File):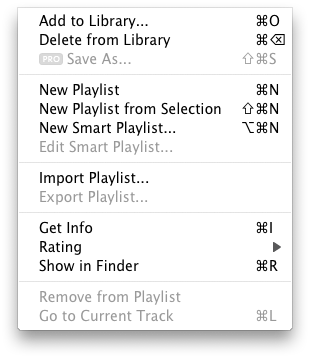 Type the desired playlist name in the text field and press "Enter" to save it.
2. To create a new standard playlist you can also click

button at Toolbar.
Or choose 

Toolbar button and select "Add Playlist" option: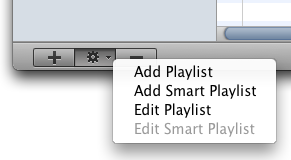 3. You can also create a new playlist via Main menu –> File –> New Playlist: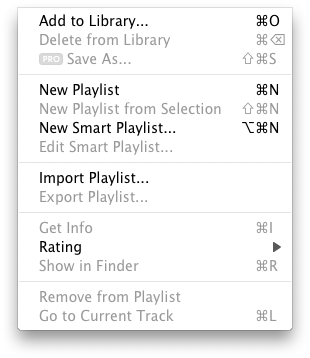 An empty playlist will be created. Type the desired playlist name in the text field and press "Enter" to save it. Now fill in the playlist by dragging files (one-by-one or several at once) or a folder of files to the required playlist at Library sidebar. Files will be added to the required playlist, as well as to Library (to "All Tracks" folder and to folders according to file formats). If you delete a file from Library, the file will disappear from your playlist as well.
Note: Elmedia Player permits you to create playlists with concurrent names. However, it is recommended to name them differently in order not to confuse them.
---

To play your playlist, choose it at Library sidebar. Click it, and the playlist will appear in List.
There are two modes of files playback – Repeat and Shuffle:
1. Click "Repeat" button at movie controls panel. It may have one of the three states: "Repeat Off", "Repeat One" (the current file will be played continuously), "Repeat All" (all files in your playlist will be repeated).
2. Click "Shuffle" button to play playlist items randomly.
---

How to manage a playlist?
To remove a playlist, select it and press Toolbar button. Empty playlist (which contains no items) is deleted without a warning message. Otherwise, you must confirm playlist removal by choosing the corresponding option in the invoked window:
To remove an item from playlist, right-click it in List and choose "Delete" option from the context menu:

Or choose "Remove from Playlist" option from Main menu –> File. This does not remove the item from Library or your hard drive.

To edit a playlist (rename it), select the playlist and press Toolbar button. Choose "Edit Playlist" option:

To rename the playlist you can also double-click it at Library sidebar and type the desired name in the text field.
---
Learn how to:
---