The following menus are available:
1. Flash Optimizer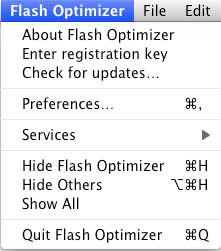 – About Flash Optimizer – brief information about current version of Flash Optimizer
– Enter registration key – register Flash Optimizer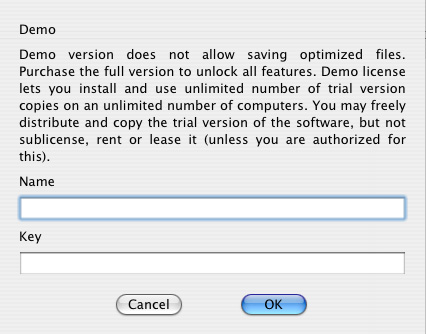 – Check for updates – check for a new version of Flash Optimizer
– Preferences… – customize the program options: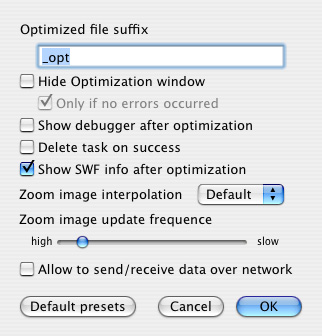 This dialog provides options to show/hide optimization process details, show/hide debugger after optimization, delete current task if optimization succeeded, show/hide SWF info after optimization completed, zoom interpolation selection, manage preview window updates, control Flash Player's security options and recover default presets if you deleted them.
-Services: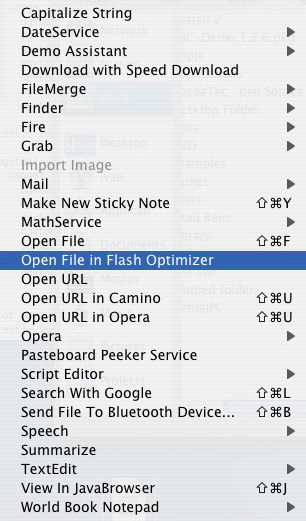 Open selected file in Flash Optimizer
Hide Flash Optimizer – hide Flash Optimizer
Hide Others – hide other programs
Show All – show all programs
Quit Flash Optimizer – close Flash Optimizer
If you have unsaved tasks then a warning prompt will pop-up suggesting you to save your work.
2. File
Open – open a SWF file and add it to the Tasks List
Save – save currently previewed optimized SWF file under the default name
Save As – save currently previewed optimized SWF file under the user-defined name
SWF Info – helps you define most beneficial optimization parameters showing you all the contents and percentage of SWF format elements in the file.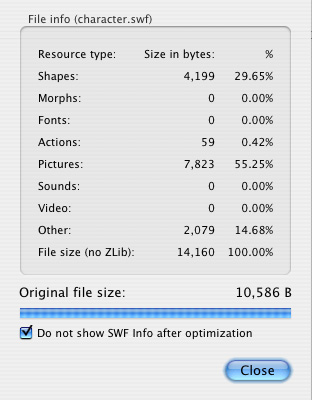 Note: if none of the files are optimized, then SWF Info shows original file information; but if SWF file was optimized, then you will see both original and optimized file info.
Preview optimization – optimize selected SWF in the tasks list, and view main optimization information, like compression rates, time taken, etc.. Save optimized movie if needed.
Optimize All Tasks – optimize all SWF files in the tasks list and save them with the default optimized prefix.
Tasks:
Delete task – delete the selected SWF file from the Tasks List
Delete all tasks – clear the Tasks List, delete all pending SWF files
Reveal in Finder – navigate to the file in Tasks list using Finder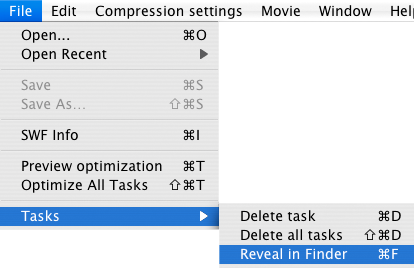 3. Edit

Edit menu contains the standard editing functions: Cut, Copy, Paste, Delete, Select all.
Compression settings:
presets – contains preset optimization settings
save – save current optimization settings as preset
save as – save current optimization settings as user defined preset
delete – delete current preset
delete all – delete all presets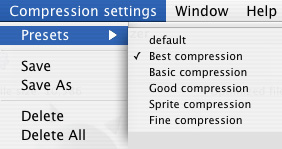 4. Window
Compression settings – choose from a number of saved parameters
Show preview – show/hide zooming and preview panel
Players – defines whether you wish to work with two players having both files (original and compressed) in front of you, or switch to 'One player' mode which is more convenient in some cases.
Minimize – minimize Flash Optimizer window
Zoom – zoom in Flash Optimizer window
Bring All to Front – get focus to Flash Optimizer window
Flash Optimizer – shows which window is active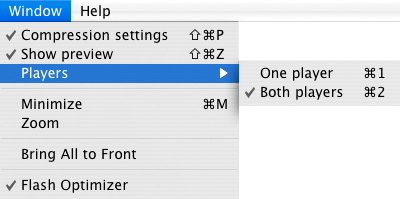 5. Help:
Launch Flash Optimizer user manual.