Task List hosts all Flash files user selects to be optimized.
Flash Optimizer has two kinds of optimization: first optimizes one file only, second optimizes batch of files. In this case there are two ways how to compress separate files. Now let's review these ways:
Task List panel view, when one file is compressed
Please, observe the following rules to add/remove a file correctly:

To start working with Flash Optimizer you should choose SWF or EXE (pre-compiled Flash Player, which is known as Projector) files to compress them. Please, double click required file in File Explorer or drag-and-drop it from other file managers to enroll file to the Task List
Then selected file should be saved to some destination folder. Please, use second textfield and locate target folder address by usingbutton. By default it's the same folder, where original file is located
Last textfield is used to name resulting compressed file. You are able to name optimized movie manually or Flash Optimizer can do it by itself as *name of original movie*_opt.swf. SWF extension is required
What is File Explorer?
File Explorer allows you to select SWF or EXE files to optimize and add them to the Task List or preview them in Flash Optimizer player.
Task List panel view, when many files are compressed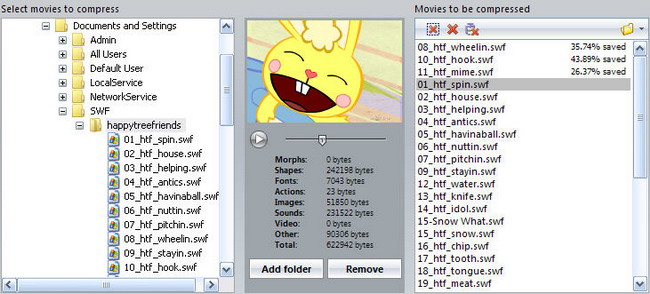 If you want to compress several files at the same time, please, use File Explorer in "Compress many files" tab to add required movie(s) with "Add file/folder" button or drag-and-drop them from other file managers to enroll files into the Task List. Be attentive! Chosen settings will ve applied to each file you add to the Task List during optimization.
Please, click "Browse" Â button and select the necessary folder or choose one of 4 last saved files in order to save Flash movies.
If you want to remove certain files, please, select them and click  button, to delate all files from the list click  button. button deletes already compressed movies.
Other panels description:
Main WindowÂ
Tabs List panelÂ
Flash Player panel
Settings panel