In the folder, where you have installed Hide My Folders ActiveX, you can find "Examples" subfolder which contains samples of using Hide My Folders ActiveX in major development environments:
Microsoft VB 6
Microsoft VB.Net
Microsoft Visual C++ 6.0
Microsoft C++.Net
Microsoft C++.Net Console version
Microsoft C#.Net
Borland C Builder 6.0
Delphi 7.0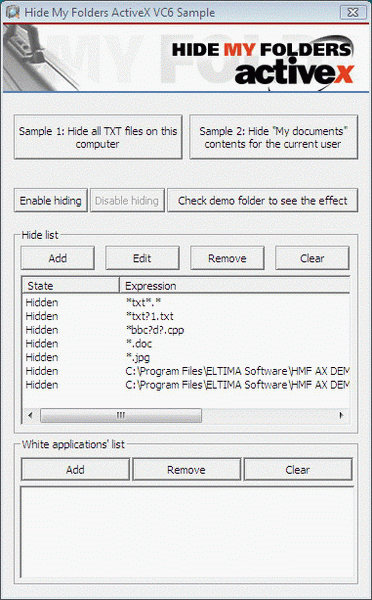 Hide My Folders ActiveX examples help you understand how all available methods work, how to specify "wild-card" mask to hide files by extensions or part of file names etc.
Sample 1: Hide all TXT files on this computer
This button adds "*.txt" mask to "hide list" hiding all TXT files on this computer.
Sample 2: Hide "My documents" contents for the current user
This button adds "C:\Documents and Settings\Username\My Documents*" mask (where Username is real username for current user) to hide all files and subfolders in corresponding directory.
Enable hiding:
Mentioned button turns on Hide My Folders ActiveX functionality globally. All files in the "hide list" become invisible.
Disable hiding:
This button turns off Hide My Folders ActiveX functionality globally. All files in the "hide list" become visible.
Check demo folder to see the effect:
Open demo folder in Windows Explorer to see how turning Hide My Folders ActiveX on/off works.
Hide list
Hide list panel displays effect of different Advanced API functions such as AddItem, SetItemFile, RemoveAt and Clear to add, edit and remove file objects or clear "hide list" correspondingly.
White applications' list
Add applications that will have transparent direct access to hidden files and folders.
Console version of Hide My Folders ActiveX provides a simple, menu-based interface to major hiding operations. To launch console sample, please, double-click Console.exe file in "Examples\VC.NET\console\Release" subfolder (by default, it is located at "C:\Program Files\Eltima Software\HMF AX OEM\examples\VC.NET\console\Release\Console.exe").
Note:
In Windows Vista you have to run console sample only "As Administrator", otherwise it won't work. Console applications do not support user rights manifests in Windows Vista.