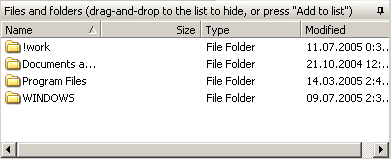 "Files and Folders" provides all necessary means to navigate folders selected in Explorer, open, rename and preview files etc. It has same features and options as Windows Explorer and is a great help in selecting correct files/folders to be hidden.
To refresh "File and Folders" panel content (to see hiding results) press "F5" button.
"Files and Folders" panel is dockable, moveable and resizable. Click the small icon at the top right corner to be able to move it elsewhere. It supports autohiding as well.