You may enter chart data directly into Java Chart Designer using Data window. To access it click "Options & Data" menu and choose "Data" or click "Options & Data" tab at the Quick access panel and press "Data" button. The new window should pop-up.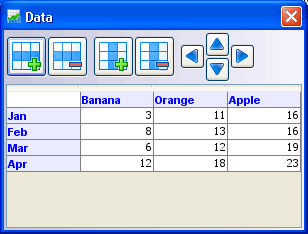 Top side of this window contains buttons to organize data where you may add, insert, remove and change order of columns and rows. Categories and series are placed sideways of the table data below.
Let's find out how you may add some data to existing demo chart:
For instance you want to add "May" category.
1. Step 1: select "Apr" category by left-clicking it: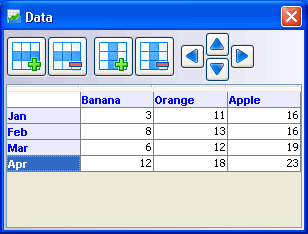 2. Step 2: click "Add category" button:



3. Step 3: click the new category row and enter "May"

In order to place "May" at the top of the other categories:
1. Step 1: select "May" if it is not selected yet by left-clicking:


2. Step 2: press "Up" button several times:


To remove category select it and click "Remove category" button:

To enter the value click corresponding cell and type in any numerical value.
Similar steps can be followed for adding/removing series values
Please note that you may enter any digits as data values only and there is no way to reverse any changes. If you remove the column or row it is completely gone.
Please, pay attention that you cannot change categories and series values in Demo version due to license limitation.