The chart legend usually displays your category or series names along with their colors. Java Chart Designer allows changing chart legend placement, alignment, text color, font and so on.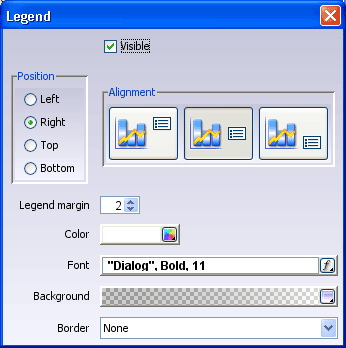 To open chart legend window click "Options & Data" menu and choose "Legend" item or click "Options & Data" tab at Quick access panel and press "Legend" button. This window consists of several controls:
"Visible" checkbox allows you to toggle chart legend visibility. This control is a replicated copy of checkbox next to "Legend" button at "Options & Data" tab.
"Position" pane lets you to change legend position. Possible values are: Left, Right, Top and Bottom.
Alignment pane lets you to select legend alignment. There are several possible alignments available depending on legend position selected in "Position" pane: Top/Center/Bottom or Left/Center/Right.
"Legend margin" spinbox defines the legend distance (in pixels) from chart itself.
"Color" control displays currently selected text color. Click the button to open color selection dialog and change text color.
"Font" control displays currently selected text's size, family etc. Click the button to open font selection dialog and modify texts parameters.
"Background" displays chart legend background color and allows changing it using color selection dialog.
"Border" drop-down menu allows selecting from one of the legend border types such as: None, Line, Raised Etched, Lowered Etched, Raised Bevel and Lowered Bevel. Try to change border types to meet your requirements.