The "Plot background" dialog window allows modifying plot background color and outer line type.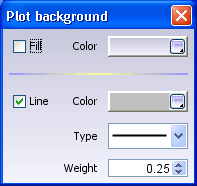 Plotting area is a part of the chart where actual data is drawn. This area could be outlined by vertical and horizontal axis and farthermost gridlines.
To open "Plot background" window click "Options & Data" menu and choose "Plot background" item or click "Options & Data" tab at Quick access panel and press "Plot background" button.
"Fill" checkbox toggles plot background color visibility.
"Fill Color" control displays currently selected plot background color and opacity values and allows changing them using color selection dialog.
"Line" checkbox toggles plotting area outer line visibility.
"Line Color" control displays currently selected line color. Click the button to open color selection dialog and change the color.
"Type" option offers several different line types to select from: firm, dashed, dotted etc.



"Weight" spinbox defines line width in pixels.