During installation process ("Select Components" dialog) you will be prompted to install Manage Registry ActiveX sample files for different development environments that will show the functionality our ActiveX Control provides. Once installed, you may access those examples either from "Start" menu ("Start" -> "Programs" -> "Eltima Software" -> "Manage Registry AX DEMO" -> "Usage examples"), or locate them on the disk using Windows Explorer (by default the Control is installed into "C:\Program Files\Eltima Software\Manage Registry AX DEMO 2.0\").
Examples are provided for the following IDEs:
Microsoft Visual C++ 6
Microsoft Visual Basic 6
Microsoft Visual Basic .NET
Microsoft Visual C++ .NET
Microsoft Visual C# .NET
Borland C++ Builder 6
Borland Delphi 7
Notice: sample applications feature the same functionality, however the design may differ slightly in different programming languages.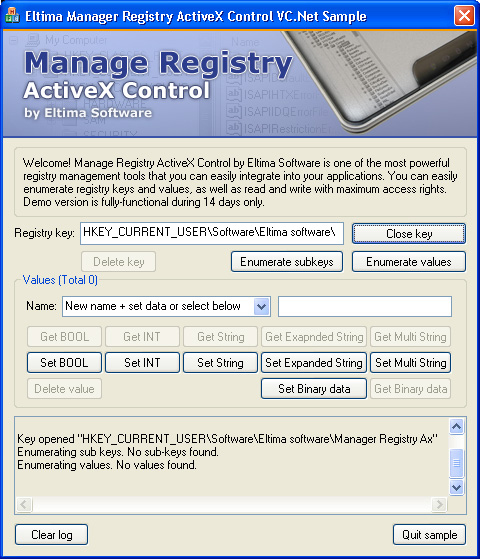 Registry key text field displays the currently active key (Key property).
Close key button invokes CloseKey method to close the current key.
Delete button invokes DeleteKey method to delete the currently selected key.
Enumerate subkeys and Enumerate values buttons are attached to SubKeyCounter and ValueCounter properties respectively.
Name combobox allows you to select the required variable at the specified key using ValueNames property. Next to the combobox you will get its value.
Get… set of buttons allow you to obtain the value of the selected variable by invoking corresponding type of function. This group of options is not available if the variable doesn't exist.
Set… group of buttons allow you to set/modify the selected variable.
Delete this value button invokes DeleteValue method.
GetData and SetData buttons allow you to get Binary data by invoking GetBinaryData and SetBinaryData methods respectively.
All actions are recorded and shown in the log textbox below.