PhotoBulk is a basic bulk image editor designed for macOS. It allows its users to place different kinds of watermarks onto the images, resize and optimize them in batch. This tool will also be handy for those who look for a convenient way to rename or convert images in large quantities at once.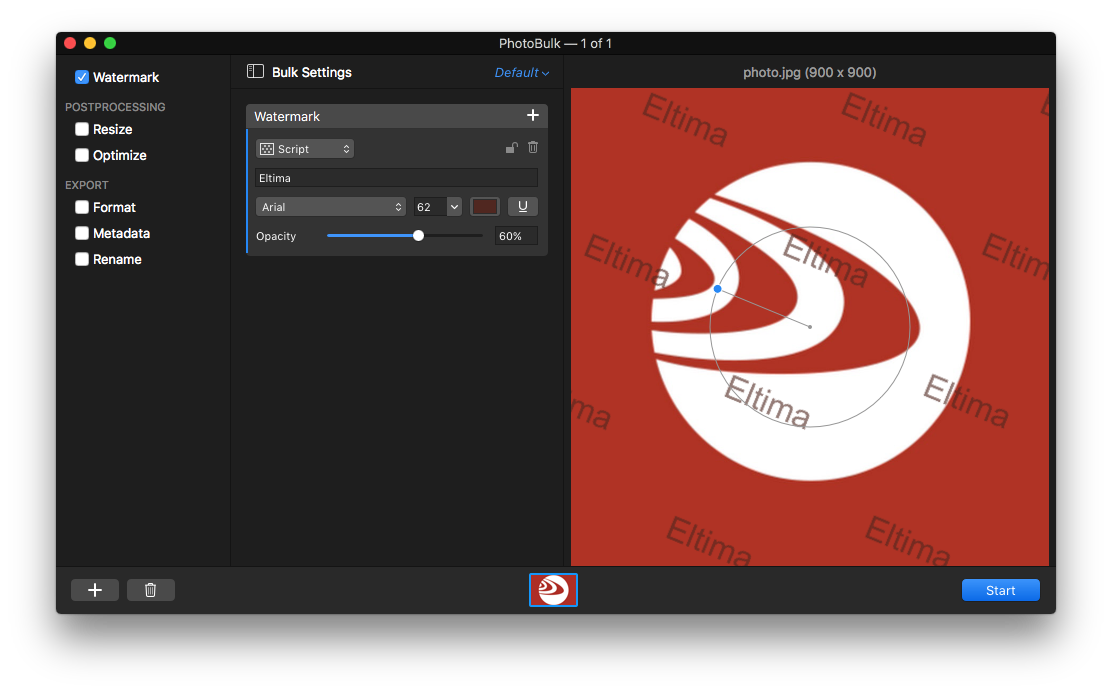 Please note that: Bulk photo processing and presets are not available in the PhotoBulk demo version. To unlock all the features, the App Store or standalone version has to be acquired.
Supported formats
PhotoBulk for macOS supports the following formats: JPEG, PNG, GIF, BMP, TIFF.
Note: HEIC format is supported in macOS 10.13.
Get Started
PhotoBulk for macOS will offer you a Default preset to customize when you start the application for the first time.
---
Watermark
The easiest way of protecting your image from copying is to add a digital watermark to it. PhotoBulk for macOS can place a text or picture onto a digital image.
---
---
Postprocessing
Bulk resize images and optimize it in a click. This can be useful if you have to work with web sites that accept images of only certain size and dimensions.
---
Export
PhotoBulk works as a Mac image converter, it supports JPEG, PNG, GIF, BMP, TIFF, HEIC (macOS 10.13+) formats. With the help of metadata settings you can choose metadata to include in output images, which can be rather handy.
---
Presets Management
PhotoBulk allows you to save watermarks settings to have the ability to add them to different images without choosing all the settings again.
---
Miscellaneous