In a folder, where you have installed Run Service ActiveX you may find "Example" subfolder which contains samples of using Run Service ActiveX in main development environments:
Microsoft VB 6
Microsoft VB.Net
Microsoft C++
Microsoft C++.Net
Borland C++ Builder
Borland Delphi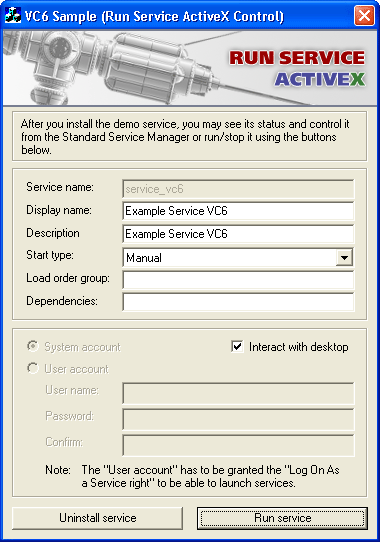 Service name: the name of the service to install.
Display name: the display name to be used by user interface programs to identify the service.
Description: the description of the service.
Start type: service start options.
Load order group: the loading order group of which this service is a member.
Dependencies: name of services or loading order groups that the system must start before this service.
Interact with desktop: specify whether the service should interact with the desktop.
Account: the account name under which the service should run.
Password and Confirm: the password to the account specified by the Account parameter.