In the samples directory of Serial Port Sniffer ActiveX Control you can find the application, which purpose is to show functionality of SPS AX.
Note, that Serial Port Sniffer Control sample application may differ in different programming languages version.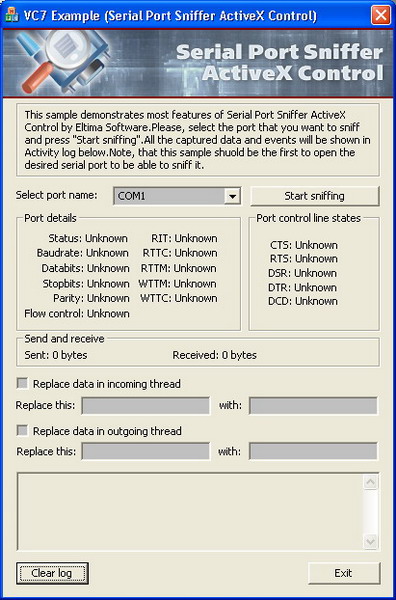 Port Name. In this combo box you can select physical serial port, which will be sniffed when you press the "Start sniffing" button (will change into "Stop sniffing" when sniffing is active). When you press "Stop sniffing" button, an attempt to finish serial port sniffing will be performed.
Port Details. First dialog box displays port details of selected serial port: status, baudrate, databits, stopbits, parity, flow control, RIT, RTTC, RTTM, WTTM and WTTC.
Port Control Line States. This dialog box shows line state (close or open) of the current port: CTS, RTS, DSR, DTR and DCD.
Send and Receive. You can see how much bytes are sent or received through the current port.
Replace data in incoming/outgoing thread. You can replace data in incoming or outgoing thread by putting word to "Replace this" textbox (the data you want to be replaced) and to "With" textbox (the data it should be replaced with).
Event Log list shows detailed log of detected events, which are sniffed by the Serial Port Sniffer ActiveX Control.
Clear Log button clears all actions in Event Log list.