Please, register your copy of Serial Splitter Mobile to utilize all the benefits of the full version. With the registered copy of Serial Splitter Mobile you will be able to add up to 20 additional serial ports into your device (COM0-COM9 and VSP0-VSP9) and disable as many ports as you like.
To register your copy of Serial Splitter Mobile in Windows CE or Windows Mobile Pocket PC, please, click  

 icon on the main toolbar. If your OS is Windows Mobile Smartphone, please, click left soft key and then "4" button (alternatively, left soft key and select "Registration" using joystick).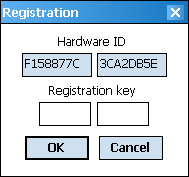 You will see the registration dialog with your device's Hardware ID, which is unique for your mobile device.
You will need this Hardware ID during order placement to receive your registration code. After you have your code and enter it in this dialog, you will see the following message: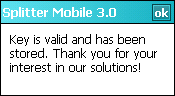 which confirms that registration was correct and accepted.