With the help of Serial Splitter Mobile, you are able to view detailed serial port information. For example, you can see if virtual or real port is used, status of this port and even application, which opened port.
To use this feature, please, select any serial port and click 

 icon in main toolbar in Windows CE or Windows Mobile Pocket PC.
In Windows Mobile Smartphone, please, select any serial port, click left soft key, click "4" button and then "6" button: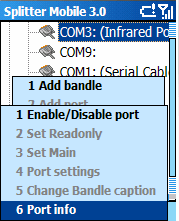 If virtual serial port is selected you can see port status on that moment: port can have status "closed" or opened by some application, which name you'll see immediately.
If real serial port is selected, you get the detailed information about selected port: port name, its device key and driver dll: