Important notice: Make sure that serial port, which you want to share, is free.
To share real serial port in your system, please, follow these steps:
Launch "Shared Serial Ports" application if it is not started yet. The default path to it is: "Start" -> "All programs" -> "Eltima Software" -> "Shared Serial Ports" -> "Configure Shared Serial Ports".
In Serial ports tree select serial port you want to share:

Click "Share port" toolbar button: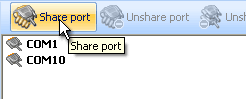 Once the port is successfully shared, "Connected applications" and "Custom rights" groups appear below shared serial port in Serial ports tree.
Now you can set custom access rights for applications that will access shared serial port and specify serial port's connection parameters. For step-by-step guide, please, refer to How to set access rights and How to set connection parameters sections respectively.