Image editor in Show.kit is a tiny integrated application to provide users with the basic functionality of image editing. We in no way seek to offer you an Adobe Photoshop (
www.adobe.com
) scales of raster images processing, but we provide you with everything you may need to make your Show.kit project as professional and good-looking as you can. And hope our image editor will help you accomplish this task.
Each project element that involves a graphics editor is marked with an image icon in the project tree, select this element to switch to image editor: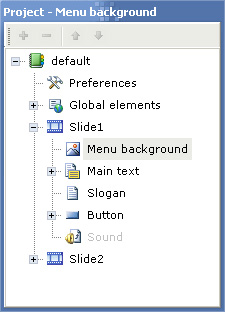 Image area size in every image related element of the project corresponds to the output size of the final compiled project. This helps you reach the best quality and most precise compilation.
Importing an image
To add an image to the image area, press "New layer" or "Add image" on the image editor toolbar:

Creating a new layer you will need to specify the color of the new blank layer. It will result in appearance of one-colored layer. When you add an image, you have to select it on your hard drive or on your LAN, it will be added as a separate layer above the existing ones. The following formats are supported: GIF, PCX, JPEG, PNG, BMP, EMF, WMF. You can also add an image with Alpha, but we'll discuss it a bit later here.
Moving, resizing, deleting
There are several ways to move a layer in Show.kit's image editor: selecting a layer and dragging it with a mouse, or moving it with keyboard using arrows. The latter will result in more precise layer positioning. Please, check that there's a dotted line around the layer, otherwise it is not selected. To select a layer, click it with a mouse pointer. To select layers that are situated lower, move the upper layers.
Use square marks to resize a layer: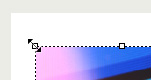 To delete a layer: select the layer you wish to delete and press "Delete" on your keyboard, or right-click a layer and select "Delete" from the drop-down menu that appears.
Using transparent images
If you need to insert an image with Alpha-channel, you can either use advantages of a PNG format, or use our "Add image with Alpha" function:




If you choose the latter option, you will be able to add an Alpha channel to the existing image. An Alpha channel in this case is supposed to be a prepared gray-scale image in which the darkest places will be most transparent and the lightest ones will result in no transparency in the RGB image you are using as a base. Detailed instructions on which image in which case you should use are included in the dialog that appears when you press the corresponding button.
Layers
Every image you add to the image box of a corresponding project element represents a separate layer until you apply the changes. Each layer can be moved, resized, deleted. You can apply various effects to each separate layer. To change the depth order of the existing layers use buttons on the main image editor toolbar:



On this screenshot the buttons that let you rotate the selected layer are also present. The layers can also be flipped. Alternatively, you can use the right-click menu, just right-click the needed layer in the image box.
Adding a magnifier
Magnifier is an additional square layer, which is added to the background of all existing layers. But the main goal of this layer is to give visual emphasis to a definite piece of the image. You can add a magnifier, configure the zoom, resize and move it around the image box. After you reach the desired effect, apply it.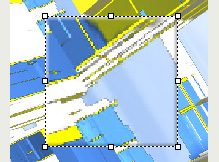 Effects
Show.kit offers various image effects, most of them have parameters for customization, some can be just applied or not. These effects include:

Contrast
Brightness
Saturation
Blur
Noise
Mosaic
Fading
Emboss
Solarize
Cropping


As you noticed, there's a margin of the visible final image area. To hide the image parts that will not be visible in the compiled output, you can turn cropping on. Just click the "Crop" button, it will work as a checkbox.
Zooming
Sometimes it can be useful to edit a zoomed image. Show.kit offers 3 controls for zooming: zooming in, zooming out and returning a 100% view.
Applying changes


After you are finished with image customizations and adjustments, you will need to apply (or reset) all the changes you've made. The standard Show.kit icon "Apply changes" will do that, click it when you are done. If you try to move to another project element, Show.kit will prompt you to apply the changes you have made, or reset the image box to the previous state.