So we are now close to starting a new project. Note, that every time you launch Show.kit you start a new project by default. This project will be a Website/Presentation project with default texts and images, or blank (depending on your internal Show.kit settings).
Currently Show.kit supports three types of projects:
Website/Presentation: compiles into Flash or HTML website, Flash + HTML website, or Flash presentation
Flash Intro: compiles into an SWF file containing the Intro that can be later used in your website, even added into the first type of Show.kit projects
Flash preloader: compiles into a small SWF file that can be used as a preloader for your Flash movies, you can even embed it into a website built with Show.kit.
Starting a new project erases all changes you have made to a current project. So, please, be careful when you start a new project after spending some time on your current one. Though you will be asked whether you wish to save the changes you've made, you still have to be careful.
So to start a new project, please, use one of the ways shown below. Please, also note that whenever you start a new project the default template stipulated for this type of project will be applied.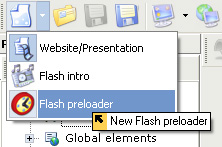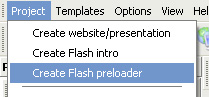 If you apply a new template and answer "No" to the request of transferring the texts and images, you will have a "New project" as well.