Every project can offer the following properties to edit globally.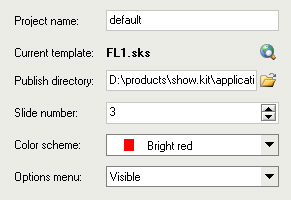 Project name – the name of the project. This is to be specified by the user, and will be used for a folder name, where all the compiled output will be hosted.
Current template – represents the template, which is currently applied to this project. The template can be changed in Templates box.
Publish directory – the path to where all project files will be hosted.
Slide number – the number of slides in the project.
Color scheme – choose the color scheme you wish to apply to your project here.
Options menu – some templates have an Options menu, you can turn it on/off here.
Please, don't forget to apply the changes.