"Playlist" window consists of two tabs, which you can switch easily by clicking the corresponding buttons: 

– to activate "Properties" tab and 

– to switch to "Playlist" tab:
1. Playlist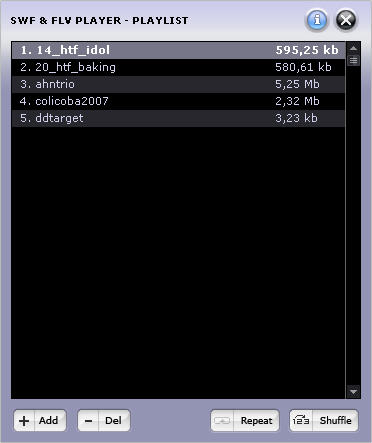 This tab houses several options to view and manage SWF & FLV Player's playlist. It has the following items:
List of the files currently added to playlist and their size. Please, note that if "Shuffle" is disabled, flash movies will be played at the exact order as shown in this list
"Add file(s) to Playlist/Add folder to Playlist" button, which invokes "Open file" dialog to add new file(s)/folder to this list
"Remove selected/Clear Playlist" button removes the selected files/clears Playlist
"Repeat" button toggles repeating function. It has 3 states:

 repeat is off: all files in the playlist will be played just one time and once the full cycle is completed, it will stop


repeat all files: play all files in a list and once the full cycle is completed, start again


repeat one file: play only the selected file in playlist, and once it is finished, start again
"Shuffle" buttons toggles shuffling on/off. It has 2 states:

 shuffle is on: files in a playlist will be played randomly

 shuffle is off: files will be played in the exact order as shown in playlist
Please, note that files marked in red are either not valid or corrupted Adobe Flash files.
2. Properties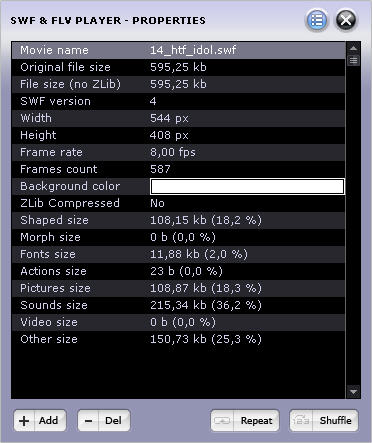 Here you may see complete information about the selected flash file.