Initially, SWF & FLV Player was developed as an alternative to Adobe Flash Player which lacks a lot of useful features and options. PRO version means to be a far more advanced application and always a step ahead of standard SWF & FLV Player.
Advanced features that are present only in SWF&FLV Player PRO version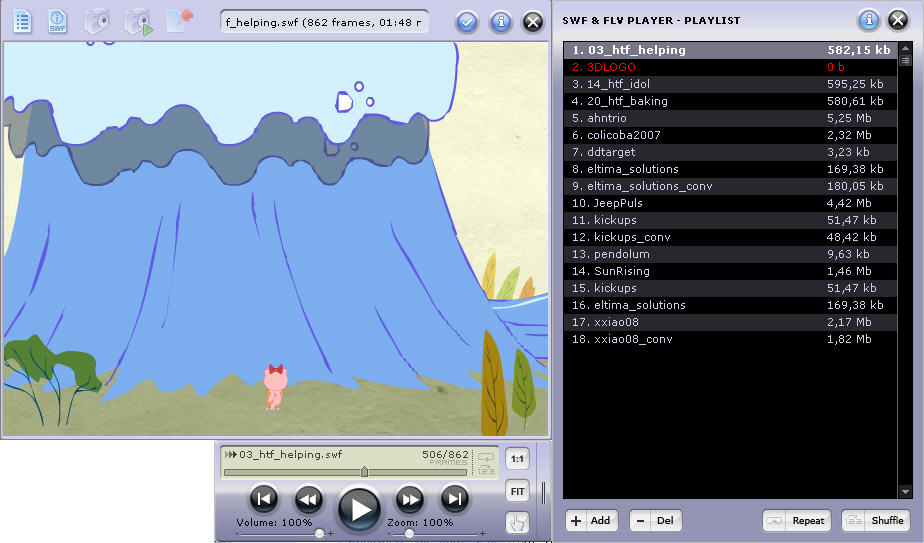 First of all, SWF & FLV Player PRO lets you save Flash animations to the hard drive. This is extremely useful if you are viewing on-line animation and want to save it. Usually, to save a Flash movie to the disk you need to find the full URL address to the SWF file and open it in a player or browser or download it separately. Alternatively, you may search through the browser's cache to find the required file. However, it is only part of the problem: most of the SWF files load other resources such is interface layout, scoreboard (for on-line games), streaming audio/video (on-line presentation, games, etc.) and so on. SWF & FLV Player PRO allows you easily determine whether the loaded Flash animation requires other files and saves all files to the hard disk.
The second feature that SWF & FLV Player's PRO version brings is opening and playing any SWF/FLV file on the web directly, which allows you to open any Flash files from web-sites and save them to your hard drive in order to play them any time once again, without Internet.
Then, SWF & FLV Player PRO version allows you to capture SWF frame screenshot and convert Flash files into image series, saving screenshots to your hard drive directly.
Besides, you'll get "Float on Top" feature in PRO version, if some of the SWF & FLV Player windows are overlapped with other applications, you can use this option to bring them to front (get focus).
Last but not least, to bring the full enjoyment when viewing Flash animation, SWF Movie Player PRO lets playback SWF/FLV files in full-screen mode.
All this makes SWF & FLV Player PRO the best SWF/FLV files player available for Windows. If you have decided to upgrade to SWF & FLV Player PRO, please, view registration information here.