FLV is a Flash video format which is specially designed to deliver multimedia video to broad audience over the Internet. Usually, it is embedded into SWF file or located elsewhere and called by ActionScript. Alternatively, it may be broadcasted using streaming server. The main advantage FLV files deliver is a compactness of the interactive on-line animation that has video insets (games, presentations, etc). As the result, Flash movie does not need to include the whole movie but load one on demand.
Indeed, you need a special player to be able to view FLV files. SWF & FLV Player is a player for Windows that lets play FLV. The procedure of opening and playing FLV files does not differ from the one of SWF: select File –> "Add file(s) to Playlist" option from Main menu: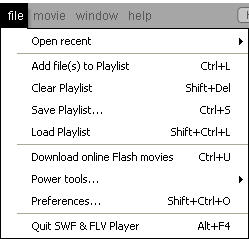 …and navigate to the file you want to play in Playlist.
The Flash movie is displayed in Movie viewer window which possesses several Movie Controls for files management.
---
Note 1: SWF & FLV Player requires Adobe Flash Player ActiveX (version not below 8) installed in your system for proper working. If it is not installed, please, visit www.adobe.com and install Flash Player ActiveX control.
Note 2:
Due to some differences between SWF and FLV structure, the frame number and total frames values are not available for FLV files. Therefore, whenever you play FLV, Movie controls panel displays the currently played movie time (in seconds) instead. Read how to quickly move to the certain time to search through FLV file.
While playing FLV file, sometimes its total time value may be changing during the preview. This may occur if FLV movie was not properly created, and total time is not available. Unfortunately, this problem cannot be fixed by means of SWF & FLV Player.
---
Tips and tricks:
1. Read about alternative methods of adding files to SWF & FLV Player Playlist.
2. To play files added to Playlist automatically you must enable the corresponding option. Read about this one and some other Playlist options in this section.
---
See also: