To set a folder where downloaded files will be stored go to "Download" tab in Main menu –> File –> Preferences: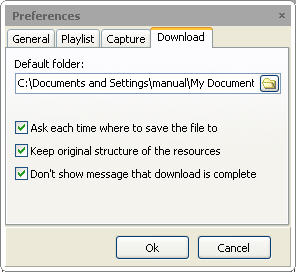 The following options are also available:
Ask each time where to save the file to – If you tick this checkbox, each time you are going to download a file, a dialog will appear, where you will be able to specify the folder the file will be saved to.
Keep original structure of the resources – Save the same catalog structure as on the server you download from. It may be useful if you download, for example, a SWF file with a definite structure of resources. To playback this SWF file correctly the original catalog structure should be created on your hard disk. Enable this option to ensure correct playback of downloaded files.
Don't show message that download is complete – Tick this checkbox if you don't want to get a message each time the download is complete.
---