"FLV recoding" option is needed when video codec is not supported by SWF specifications which may lead to inadequate SWF playback. To be correctly displayed, contents of FLV file needs recoding.  In this tab you can customize FLV recoding options to get high-quality SWF file:

1. Choose video recoding mode:
Recode if result won't play
Apply this mode when you are sure that codec is not supported by SWF specifications. Such information is supplied in a warning message (see an icon left to File info):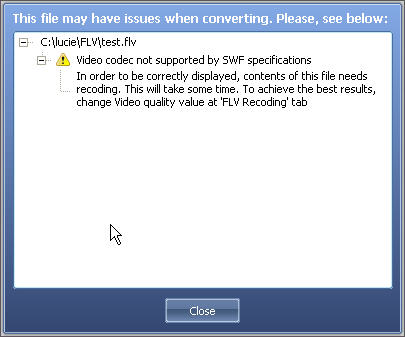 This option disables FLV recoding for all files.
If enabled, this option permits to recode all FLV files disregarding whether their video codecs are supported by SWF specifications or not.
2. To achieve the best results change Video quality value. Video quality option can considerably save resulting movie size (and upload/download time as well) on the one hand, and essentially decrease movie quality on the other. The smaller file size, the lower the quality. Try to experiment with different values to get satisfactory size/quality result.
3. Video FPS: "Frames per second" is the frequency at which unique sequential images (frames) are produced per second.
"Reset to defaults" option restores all default settings.