SyncMate allows syncing with BlackBerry devices running OS 6 and 7. You can sync contacts, calendars, media files (images/videos/music), folders, Entourage/Mail notes (OS X 10.7 or earlier), To Dos/Reminders, and Stickies on Mac with BlackBerry devices via USB cable. Possibility to read SMS messages directly on your Mac is also available.
Notes:
We haven't had an opportunity to test earlier OS types, so you are welcome to help us and report if SyncMate is compatible with BlackBerry phones running previous OS versions.
For successful connection of BlackBerry devices to SyncMate on your Mac and subsequent syncing, make sure that BlackBerry Desktop Software is uninstalled from your Mac (use BlackBerry Desktop Software Uninstaller for this purpose).
To establish connection with BlackBerry device, follow these instructions:
1. Click "Add connection" button, which is located in the upper right corner of the main screen, and "Device connection Wizard" will be invoked.
2. Choose "BlackBerry device" connection: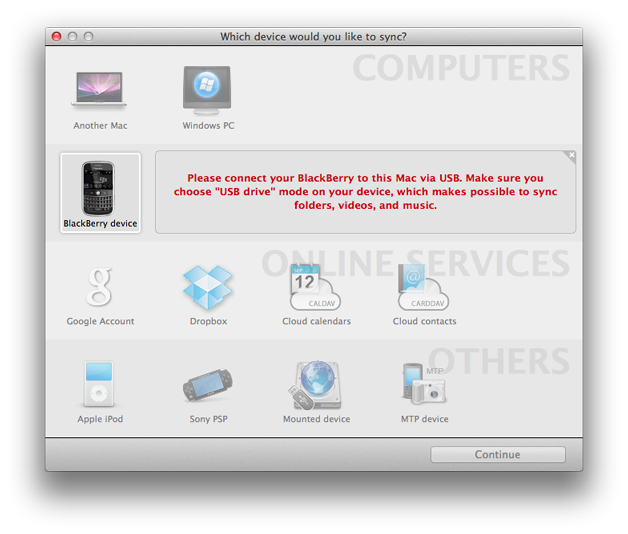 3. Connect the device to your Mac via USB cable (choose USB drive mode). After that, the device will automatically appear in "Devices list" area.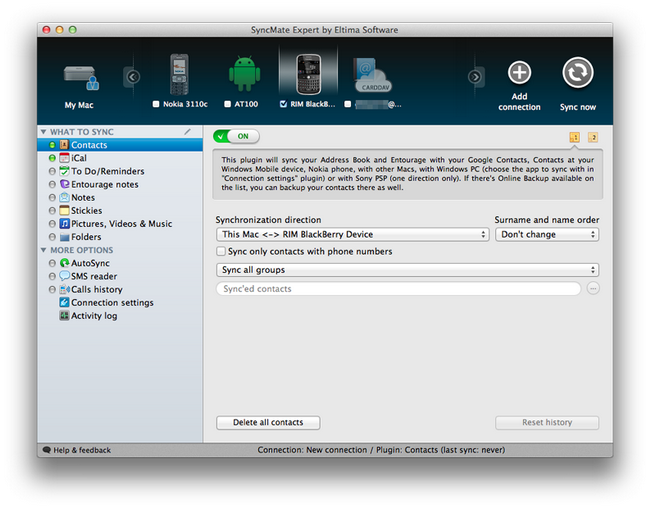 4. The following sync options are available now: