<< Back to Pictures, Videos & Music
---
"Pictures, Videos & Music" plugin lets you synchronize folders with images (JPG, GIF, IMG, BMP, PCT and other well-known image formats), as well as iPhoto albums on your Mac, with folders on Windows Mobile devices, mounted devices, Android devices, Windows PCs, other Macs or Sony PSP.
You can also sync folders with images and iPhoto albums from iOS devices and iPod nano to Mac.
You can also sync iPhoto albums among Macs.
Also, folders with images can be synced to Dropbox account from Mac.
Images/videos can be also synced between Mac and Google Drive storage.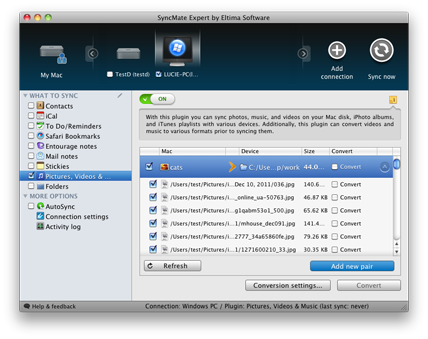 ---
The synchronization procedure varies slightly for different devices:
---