<< Back to Pictures, Videos & Music
---
Note: Since SyncMate version 4.x, it is possible to sync not only images, but also videos from Mac's iPhoto albums into album on another Mac.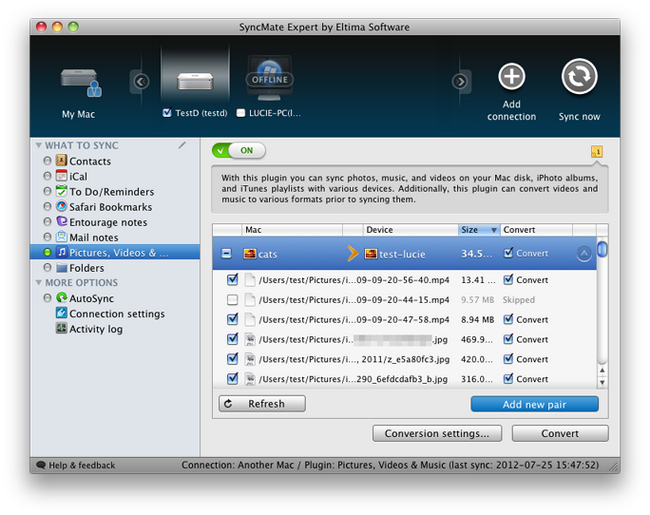 To start syncing iPhoto albums, do the following:
1. Click "Add new pair" button.
2. Select the source device (the sync direction, in other words).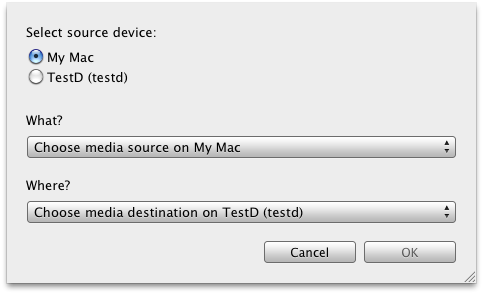 3. Choose iPhoto album on your Mac.
4. Choose remote album to sync with.
5. Click OK button to add the sync pair to the list.
6. Tick the items you want to be synchronized.
7. Click "Sync now" button to start the synchronization process.
Notes:
"Refresh" button is used to refresh data if some changes were applied to the albums. For example, if new albums were created, they will be dded to the list.
Only

standard iPhoto albums

can be synced among Macs currently. Standard albums are those that you create manually (File  –> 'New Album'; or Command-click to select the images and choose File –> 'New Album from Selection'). Refer to iPhoto Help for details ("About photo albums" section).
When syncing

iPhoto albums between two Macs

, it is possible that on the secondary Mac event is created for every single picture synced, regardless of the date the picture was taken (even if there are several pictures with the same date). This issue is caused by behavior peculiarity of iPhoto, and it is not SyncMate fault.To solve the problem we recommend to do the following once the albums are synced: go to iPhoto on the secondary Mac, select all the events and enable "Autosplit Selected Events" option (Events menu). The selected pictures will be united into events according to their creation date.