<< Back to Pictures, Videos & Music
---
You can sync not only the entire iTunes playlist, but single files as well. Conversion of videos/music to various formats before sync is available.
To start syncing, do the following:
1. Click "Add new pair" button.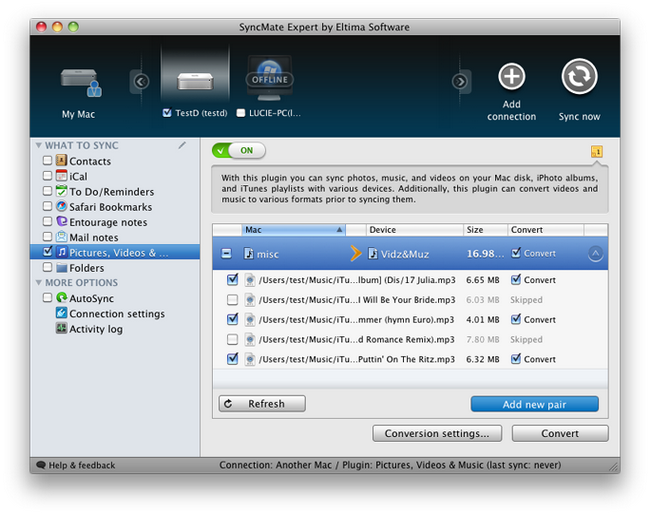 2. Select the source device (the sync direction, in other words).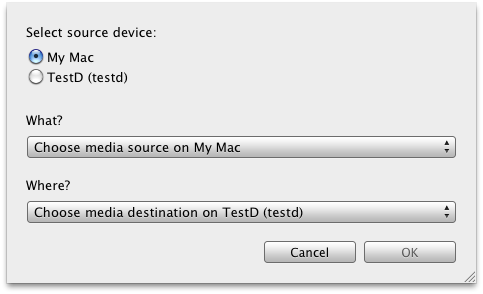 3. Choose iTunes playlist on your Mac.
4. Choose remote playlist to sync with.
5. Click OK button to add the sync pair to the list.
6. Tick the items you want to be synchronized.
7. If conversion before sync is needed, tick "Convert" checkbox and customize Conversion settings:
8. Click "Sync now" button to start the synchronization process.
---
Notes:
"Refresh" button is used to refresh data if some changes were applied to video and music playlists. For example, if new playlists were created after the existing playlists were already displayed in SyncMate, they will be added to the list.
If you enable "Move files to Trash on deletion (if possible)" option in SyncMate Preferences, then, when some files are deleted on Mac during the synchronization process, they will be moved to Trash. It will help you easily restore deleted files in future if required.
Only standard iTunes playlists can be synced among Macs currently. Standard playlists are those that you create manually (File  –> 'New Playlist'; or Command-click to select the songs and choose File –> 'New Playlist from Selection').  Refer to iTunes Help for details ("About playlists" section).
---