"Mount disk" plugin lets you mount the storage space of Windows Mobile devices, Android devices, iOS devices and MTP-based devices as a new volume on your Mac.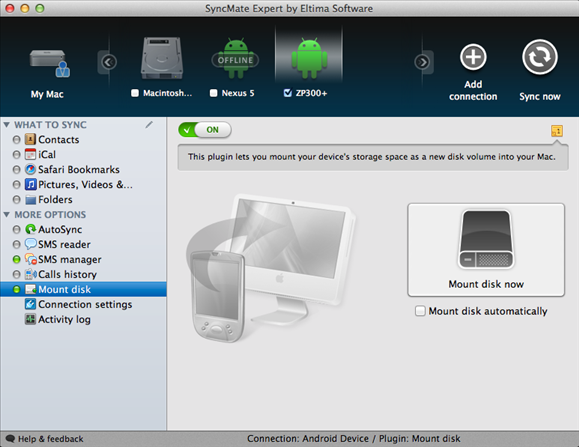 To mount your device as a new Mac's volume, follow these steps:
1. Establish connection with your device via USB cable, Wi-Fi or Bluetooth (if it isn't established yet):
2. Go to SyncMate's "Mount disk" plugin.
3. Tick "Mount disk automatically" checkbox if you want your device to be automatically mounted as a new volume on your Mac each time connection with this device is established in future.
4. Click "Mount disk now" button in "Mount disk" plugin.
5. Now your device appears on your Mac and you can freely browse through it and perform any actions you need as if you were working with a local volume.
---
Since SyncMate version 4.1, you have a possibility to access root folder of your Android devices. Now you can sync any storage connected to your device, not only the one located in /mnt/sdcard.
To configure access to root folder, go to Connection settings for your device: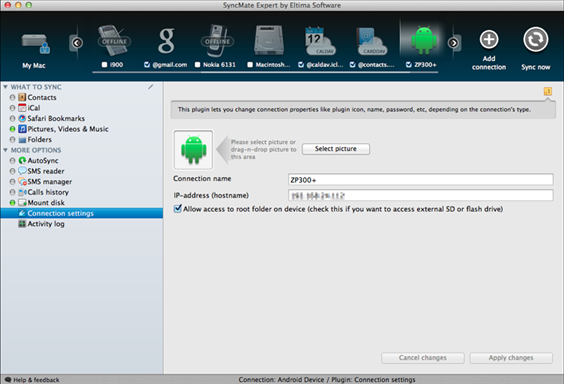 Note: when checking/unchecking this box, all previous sync pairs for this connection will be deleted, because files paths will be changed. You will have to add sync pairs from the very beginning.
You can also mount storages of Android device (internal memory, SD Card, any other storages) simultaneously, due to access to root folder.
---
Notes:
When you mount

Windows Mobile device or Android device

as a new volume on Mac OS X Snow Leopard (version 10.6), Finder does not update free disk space info after you've added or deleted data from this volume. Only the amount of disk space, which was free at the moment of volume mounting, will be shown. It is not SyncMate fault though. It happens due to functioning peculiarities of MacFUSE, the library which we implement to mount devices as volumes in Finder on Mac OS X.You can try the following to solve this problem: either unmount volume and mount it again via SyncMate "Mount disk" plugin to update free disk space info or look up available disk space in your device settings.
Due to the functional peculiarity of MacFuse Library, when your Mac is running in "

64-bit Kernel and Extensions

" mode, the following sync issue occurs: devices cannot be mounted as disks.
As all sync options offered for MTP devices are available in Expert (paid) version only, we strongly advise to check if your device can be connected to your Mac and recognized by SyncMate prior upgrading to Expert. Download the free SyncMate version here: https://mac.eltima.com/download/syncmate.dmg
---
See other plugins here.