Starting from version 4.x, SyncMate syncs with any MTP-based device* (mobile phones, cameras, portable devices, etc.) via USB. Now you can sync images/videos/music and folders in 2 directions: from Mac to MTP device and from device to Mac.
Note: bidirectional sync is not supported.
To establish connection with MTP-based device, follow these instructions:
1. Click "Add connection" button, which is located in the upper right corner of the main screen, and "Device connection Wizard" will be invoked.
2. Choose "MTP device" connection: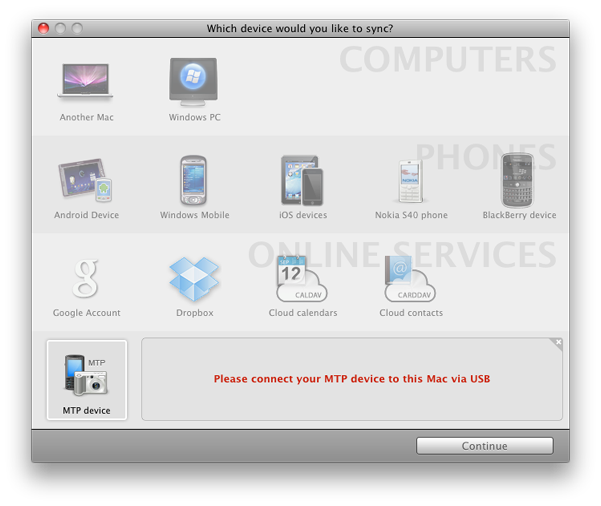 3. Connect the device to your Mac via USB cable. After that, the device will automatically appear in "Devices list" area.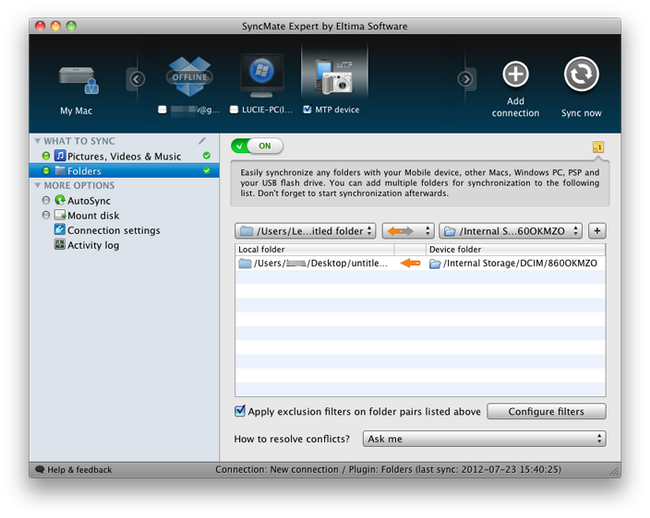 4. The following sync options are available now:
---
Mounting Storages
Since SyncMate version 4.x, it is also possible to mount all available storages (SD card, USB storage, etc.) when connecting device in MTP mode to Mac. It can be extremely useful for Android 3.x and 4.x devices owners where MTP is the default mode.
Read SyncMate Tips on how to mount any storages of your Android on Mac in our Official Eltima Software Blog:
/blog/2012/08/syncmate-tips-issue-5-how-to-mount-any-storages-of-your-android-on-mac.html
To mount MTP device as a disk, establish connection with your device via USB cable and switch to "Mount disk" plugin in SyncMate's plugins list.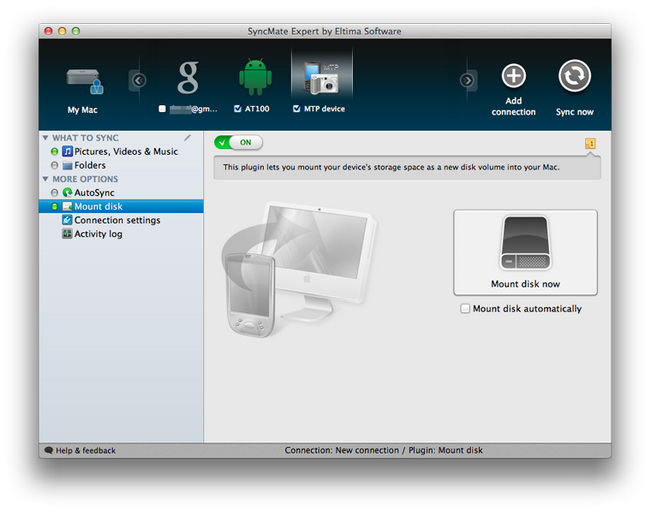 1. Tick "Mount disk automatically" checkbox if you want your device to be automatically mounted as a new volume on your Mac each time connection with this device is established in future.
2. Click "Mount disk now" button.
3. Now your device appears on your Mac and you can freely browse through it and perform any actions you need as if you were working with a local volume.
Warning: We physically cannot test SyncMate with all MTP devices. Not all sync options could be available for a specific device, which depends not on SyncMate functionality, but on the protocol options provided by the device vendor (e.g. iPhones can be connected in read-only mode solely, while BlackBerry devices cannot be connected at all, though they are MTP-based).As all sync options offered for MTP devices are available in Expert (paid) version only, we strongly advise to check if your device can be connected to your Mac and recognized by SyncMate prior upgrading to Expert. Download the free SyncMate version here: https://mac.eltima.com/download/syncmate.dmg