"Stickies" plugin lets you synchronize Stickies on your Mac with Notes on your Windows Mobile device and iOS device, and with Opera notes or Microsoft Outlook on Windows PC, and vice versa.
Synchronization with Sony PSP is also available (one direction only).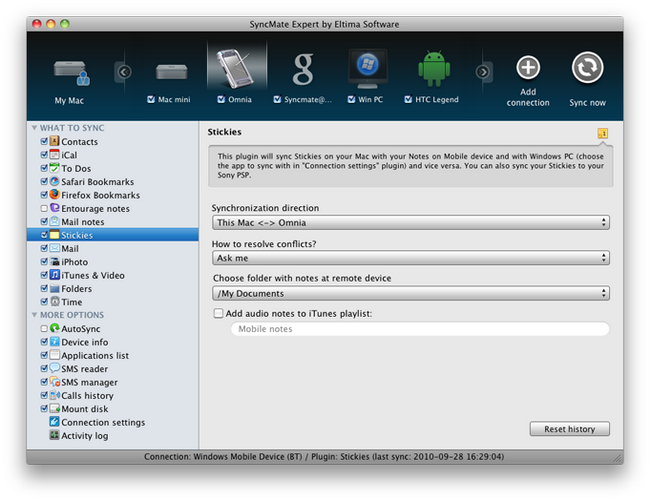 Please, read the following instructions carefully to start the synchronization correctly:
1. Synchronization can be done in three directions: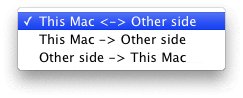 Note: Stickies synchronization with Sony PSP is performed in one direction only (from Mac to Sony PSP).
2. If some data (file name, format, etc.) is changed at the remote side and on your Mac simultaneously, SyncMate won't know which one has the highest priority. In this case you have three ways to resolve this issue:

3. If you are going to perform synchronization with Windows Mobile device, choose the folder with notes on it using the corresponding option. If you are going to perform synchronization with Windows PC, to choose the application on Windows PC, which Stickies on your Mac will be synced with, go to "Connection settings" plugin ("Sync with" option).
4. If you want to add audio notes to iTunes playlist, please, tick the corresponding checkbox.
5. If you want to delete all your previous synchronization history, please, click "Reset history" button.
6. Click "Sync now" button to start the synchronization process.
---
See other plugins here.