SyncMate allows you to synchronize different types of data with Dropbox account. See the full list of synchronization options here: /wiki/user-guides/syncmate-macos/dropbox.html#options
To establish connection between SyncMate on Mac and Dropbox account, do the following:
1. Click 

button, located in the upper right corner of SyncMate main screen. "Device connection Wizard" will be invoked.
2. Select "Dropbox" connection: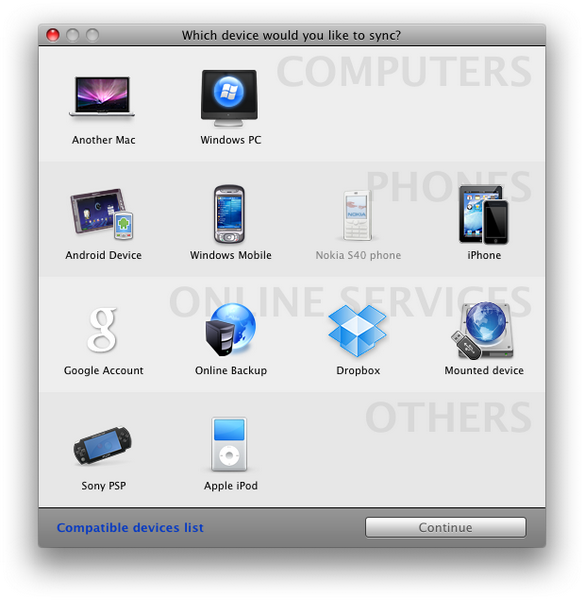 3. If you already have Dropbox account, enter your login and password and click "Continue":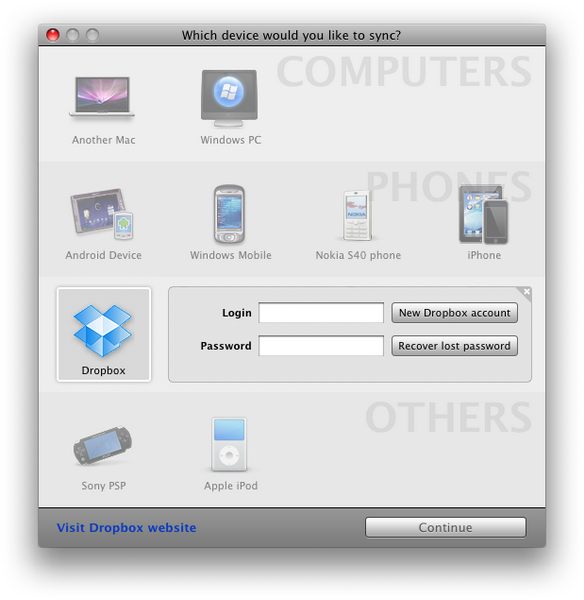 If you do not have Dropbox account yet, click "New Dropbox account" button to create an account.
To recover the forgotten/lost password, click "Recover lost password" button.
You will be redirected to Dropbox website (active Internet connection is required).
4. Your Dropbox account will appear in SyncMate "Devices list" area. Now you can start synchronization.
---
Once the connection with Dropbox account is established,  the following synchronization options become available to you:
Notes:
When syncing Address Book contacts, iCal events, To Dos/Reminders, Safari bookmarks, Entourage notes and Mail notes from Mac to Dropbox account, you actually create backup of the above listed entries. Now it will be easy to restore data (for example, in case of hard drive crash) or to move data (like contacts of Address Book) from one Mac to another, as the synced data is stored online (in your Dropbox account) and can be accessed from any computer which is online.
To secure synced data we recommend to use "Data encryption" plugin, which  lets you encrypt and decrypt data stored in your Dropbox account, thus making sure that nobody but you can decrypt and use this data.
Currently, only folders with files (images and videos/music) can be synced to Dropbox via iPhoto and iTunes & Video plugins; iPhoto albums and iTunes playlists are not synced to Dropbox.