SyncMate lets you synchronize various types of data on your Mac (Contacts, iCal events, To Dos/Reminders, etc.) with Windows PC.
You will need free SyncMate module for Windows OS to make the synchronization possible. Make sure that your Mac and Windows PC are connected to the same network (via Ethernet or Wi-Fi).
Device compatibility: Windows XP/Vista/7 running MS Outlook: 2003, 2007, 2010.

To establish connection between Mac and Windows PC, do the following:
1. Download SyncMate module for Windows OS at: http://www.sync-mac.com/download/syncmate.exe
2. Run the installation package and follow the installation wizard.
3. Launch SyncMate.exe: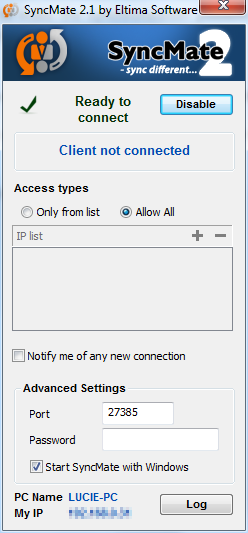 Note: by default all incoming connections are allowed. If you want to establish connection with certain Mac(s), please, use IP list to manage access.
4. Select port to connect to. Optionally you can set a password.
5. Now at your Mac click "Add connection" button

, which is located in the upper right corner of the main screen. "Device connection Wizard" will be invoked.
6. Select "Windows PC" connection: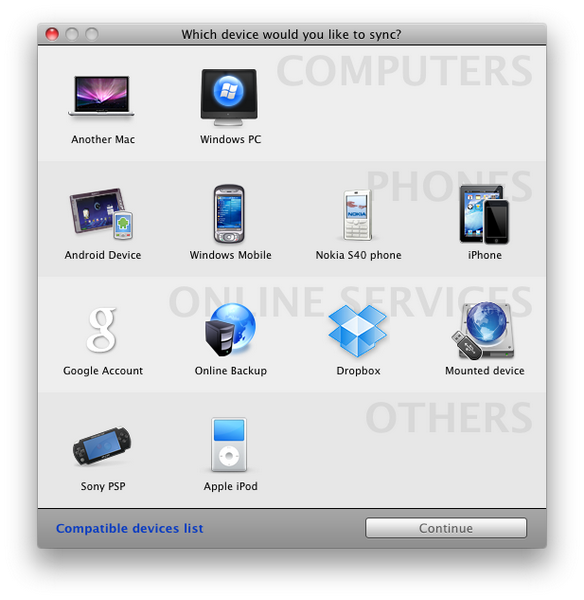 7. Choose a Windows PC to connect to from the drop-down list:
Thanks to Bonjour support, SyncMate automatically locates on a local network and displays the list of other computers you can connect to (Windows PCs with SyncMate installed, which are online). So, you do not have to enter manually IP address and port of the remote Windows PC.
Bonjour can be installed on your Windows PC together with SyncMate module for Windows. During SyncMate module for Windows installation, tick "Install Apple Bonjour" checkbox: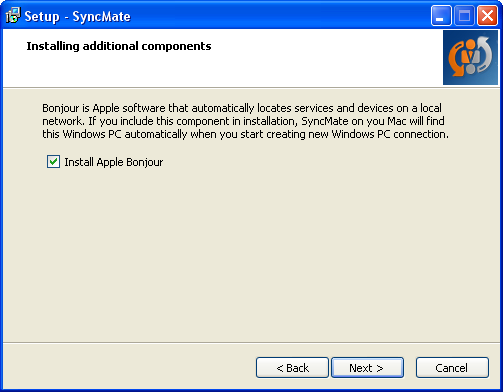 Notes:
Bonjour for Windows supports Windows XP Service Pack 2 or later.
If you experience problems with Bonjour operation, make sure that Bonjour is listed in Firewall exceptions list and is allowed to receive incoming packets. Also, 5353 UDP port should be opened.
Though SyncMate automatically displays the list of available Windows PCs you can connect to, you can establish connection manually. Choose "Add a Windows PC manually" option from the drop-down list:
…and enter the name/IP address/DNS name of the remote computer manually: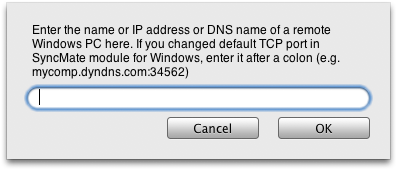 For your convenience, IP address and port of Windows PC are automatically displayed in SyncMate module for Windows: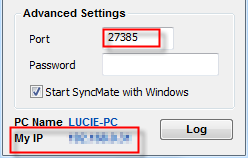 Note: in order to connect successfully Mac to Windows PC, the remote side has to have real IP address, which is accessible from the Internet disregarding whether remote IP address is static or dynamic.
8. Enter password (optional), which is set on remote computer to secure the connection, and click "Continue" button: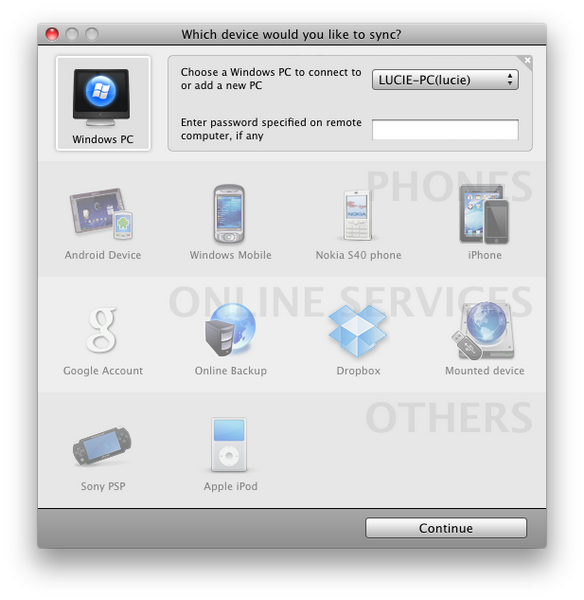 9. Windows PC will appear in "Devices list" area in SyncMate on Mac. Now you can configure some connection settings for the remote Windows PC and start the synchronization.
---
Now you are ready to synchronize: