In Preferences, invoked from Main menu, you can customize SyncMate options.

General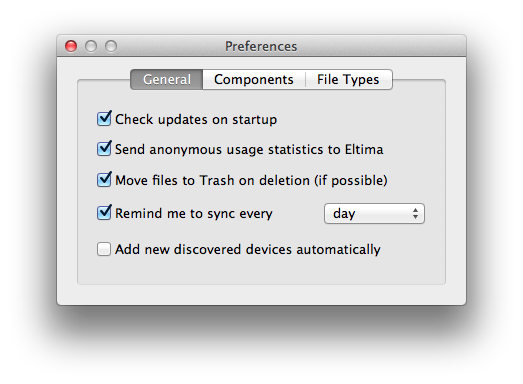 Tick "Check updates on startup" box to check for the newest SyncMate version each time SyncMate is launched.
Send anonymous usage statistics to Eltima – tick this box to send to Eltima Software info about what devices are synced with Mac. No personal information is collected during this procedure.
"Move files to Trash on deletion (if possible)" permits to move files to Trash when some of them are deleted on Mac during the synchronization process. It helps easily restore them in future if required. This option is applicable to Folders, iTunes & Video and iPhoto plugins.
Tick "Remind me to sync every …" box if you want SyncMate to offer synchronization periodically.
If "Add new discovered devices automatically" option is enabled, you will be automatically offered to create connection each time a USB device is plugged in. If this option is disabled, you can sync with your device by clicking "Add connection" button in SyncMate interface and following instructions in the invoked "Device connection Wizard" window."Add new discovered devices automatically" option is disabled by default.

Components
"Components" tab displays what advanced components are installed. Advanced components are required to activate some SyncMate sync features. You can choose which components to install during SyncMate installation. Later on you can decide which of them to add or remove.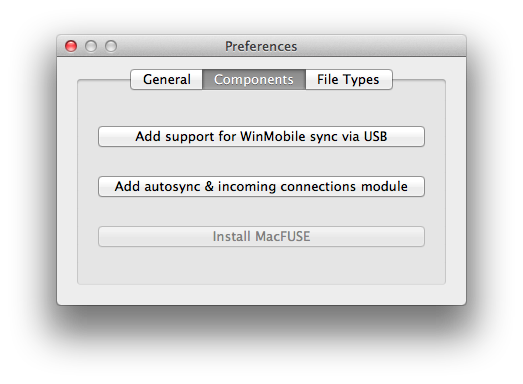 File Types
"File Types" tab displays file extensions that correspond to video, music files, etc., to help SyncMate easily distinguish them for correct work of iTunes & Video and iPhoto plugins and for correct display of Windows Mobile device info.
If some file types are not listed here, they will not be displayed in the list when you add files for synchronization in the corresponding plugin and, therefore, they will not be synced.
"File Types" tab lists the most popular file types. Nevertheless, make sure, that all file types you need are present in this list. To add more file types, click "+" button.