1. Click Add new in the left panel of the main window. Choose Microsoft Services in the wizard: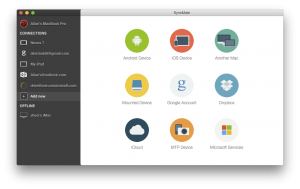 2. Choose the account type: Outlook (Microsoft Live), Office 365 Home or Office 365 Business.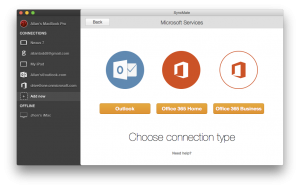 3. Enter your login and password: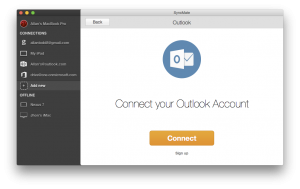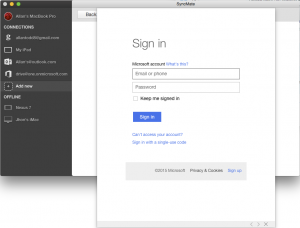 4. Once the account is successfully connected, tune the Connection settings: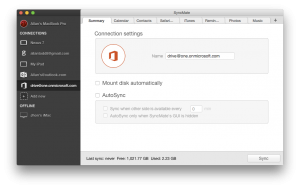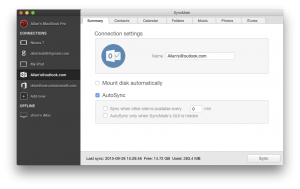 5. Now you can sync Safari bookmarks, iTunes, Photos, Contacts, Calendars, Folders, Reminders and Music between Microsoft Services and your Mac.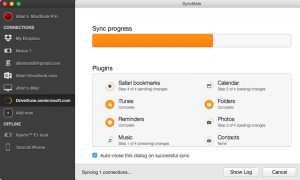 Notes:
Outlook (Microsoft Live):
1. Contacts sync is one-direction only: from Outlook to Mac.
2. Only one-time events are synced. Recurring events are not supported.
3. An all-day event is displayed as a two-day event when synced to Outlook. That's not a bug of SyncMate though, but is caused by internal behavior of Outlook.
Office 365 Business:

1. If you are logging into Microsoft OneDrive via Office 365 Business connection, Contacts, Calendar, Safari bookmarks and Reminders sync will actually create backup files. It helps to easy restore data or to move data (like Contacts) from one Mac to another.
2. When syncing Safari bookmarks and Reminders, you actually create backup of the above listed entries. Now it will be easy to restore data (for example, in case of hard drive crash) or to move data from one Mac to another, as the synced data is stored online and can be accessed from any Mac which is online.
3. Office 365 Business connection is available only starting from OS X Mavericks (version 10.9).