With SyncMate you will be able to synchronize Safari bookmarks on Mac with other bookmarks of your devices.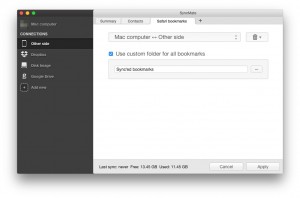 Synchronization parameters
---
Note:
SyncMate doesn't sync Safari bookmarks with Android OS 6.x-8.x devices.
Changes applied to the bookmarks on an iOS device (editing or deletion) are not synced to the Safari bookmarks on the Mac.
To start synchronizing the bookmarks, please click "Apply" first to confirm the selected parameters, then select "Sync".
---
To sync Safari bookmarks on macOS Mojave (10.14) with your other devices, SyncMate will need the full disk access. Below are the steps:
Open System Preferences on your Mac. Then open Security and Privacy section.
Switch to the Privacy tab and click the Full Disk Access folder in the list.
Click the lock. You have to unlock it to be able to make changes. Enter the administrator password.
Click the + button to manually add the SyncMate.app file to the Full Disk Access list.