Typeeto lets you type on a device that supports Bluetooth keyboard (iPhone, iPad, Android, etc.) using the keyboard of your Mac. For example, you can use your Mac keyboard to type a long message and then send it from your mobile device.
Supported devices
See the full list of supported devices here.
Typeeto has been tested and is compatible with the following operating systems:
Android 4.0.4 and higher
iOS 6 and higher
Windows XP and higher
macOS 10.9.5 and higher
Note: Earlier versions of the aforementioned operating systems generally do not support Bluetooth keyboards, therefore we cannot guarantee the compatibility between them.
How to make your device and Mac talk
1. Download and install Typeeto on your Mac.
2. Сonnect your device to Mac.
For example, to establish connection with your Android device , follow the instructions here.
Note: The connection should be initiated from the Android/iOS device.
You can connect any number of devices to your Mac and switch between them. You can also assign a hot key to each device using the Quick Launch option: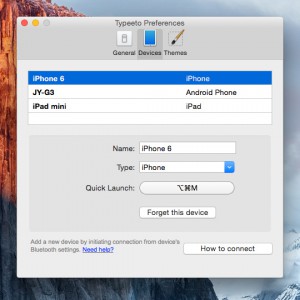 3. Launch Typeeto on your Mac and start typing on your Mac's keyboard. The text will appear in the corresponding app on your device – SMS message, Notice, etc.
Preferences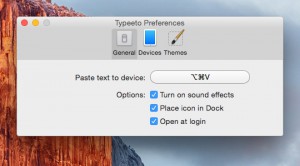 Paste text to device – assign a hot key for paste action. You can paste text up to 1024 symbols, from Mac to your device only. Note: When working on Mac keyboard connected to your device via Bluetooth, you can use copy and paste hotkeys: Cmd+C/Cmd+V for iOS devices and Ctrl+C/Ctrl+V for Android devices. Note, that you copy to the clipboard the text which is selected on the device, and respectively you paste the text from the device's clipboard.
Turn on sound effects – Add sound effects for tasks such as texting, etc.
Place icon in Dock – Check this box if you want Typeeto icon be displayed in Status bar. This will allow quick access to the latest connected device. Otherwise, only Typeeto's shortcut in the menu bar will be visible. If enabled, is used for connection by default.
Open at login – Makes Typeeto Preferences open automatically when you log into the system.
Tips
1. When you connect an external Bluetooth keyboard to your Android device, English layout is set by default. To get support for additional layouts and to choose between different layouts, install a special tool. For example, try using RaidSix Hardware Keyboard Layouts.
2. The shortcut for switching the input language on iOS 9 and 10 is Ctrl+Space, on older iOS versions – Command+Space.
3. Modern Mac keyboards have built-in media keys which can be quite handy (play/pause, etc.). Typeeto can send these commands to iOS devices only when the Fn key is pressed. So in case the Use all F1, F2, etc. keys as standard function keys option in System Preferences is disabled (Apple menu → System Preferences → Keyboard), you will have to press the Fn key when you type in Typeeto.
---