Uplet is a minimalistic tool for uploading photos on Instagram directly from your Mac without a smartphone.
How it works
1. Sign in with your Instagram account: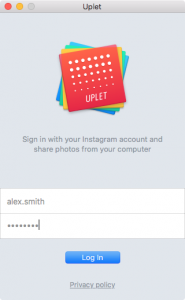 2. Add one or multiple photos by dragging and dropping them or pressing Add photos.
Note: The supported file formats are: JPG, PNG, TIFF.
3. For each photo, add a caption and choose the aspect ratio (keep as the original or cut to square):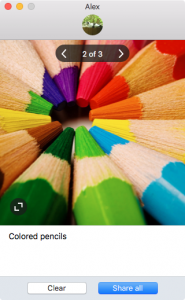 4. Click Share (or Share all if you've selected multiple files).
Note:
Instagram has a restriction on the number of files that can be uploaded in a given time frame. The current limit is 100 uploads in 24 hours. When it's reached, your photos will still seem to upload normally but you will no longer see them appearing in your feed. If you encounter this issue, wait for the next day before uploading your next photo.
Note: Instagram has a restriction on the number of hashtags. You cannot add more than 30 hashtags per post.
How to avoid getting banned on Instagram
Instagram may ban your account for doing the following:
posting photos that belong to someone else;
demonstrating violence or inciting racial or religious intolerance;
posting photos that expose nudity (even if you are a world-renowned photo agency and the photo is a part of your ad campaign);
promoting weight loss (Instagram joined Facebook's initiative against anorexia, and hashtags related to dieting are forbidden);
posting photos with other people without tagging them in the photo;
posting personal documents (including credit card information, social insurance number, email or phone number of other people, and other sensitive information);
posting images with the Instagram logo;
accessing your account from different IP addresses (we particularly don't recommend running Uplet with the same Instagram account on different Macs or using it along with the native Instagram client for iOS or Android);
posting identical photos from different accounts;
posting "bad" comments (this includes self-advertising and duplicating comments as well as comments with URLs, discount coupons and other information regarded as commercial spam);
using "bad" hashtags (Instagram may suspend the indexing of your hashtags, for instance, for posting multiple images with the same set of hashtags).
According to their Terms of Use, Instagram also reserves the right to refuse access to the service to anyone for any reason at any time.
---
See also: