Virtual Modem Pro, de facto, is a configuration utility that uses Virtual Serial Port technology to create, configure and manage virtual modems in your system.
Once the virtual modem is created, you no longer need to launch configuration utility unless you want to change modem's configuration parameters or check modem's status. Similar to real modems, they are created during OS boot-up, prior to user login.
This section outlines the configuration utility interface, giving you basic ideas of working with virtual modems.
The Main Window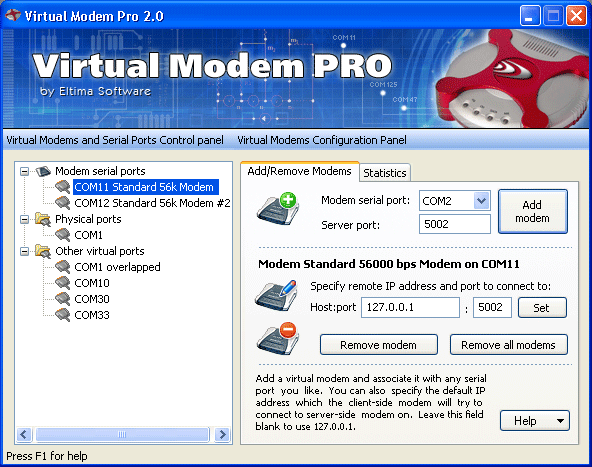 The Main window of the configuration utility provides convenient access to all necessary options such as assessing, deleting and reviewing the full statistics of available virtual modems as well as adding new ones. Several items can be distinguished here:
System Explorer

Tree view at the left side of the configuration utility is a real-time representation of current system configuration, showing you not only virtual, but actual (physical) serial ports present in your system as well as existing virtual serial ports created by other Eltima products (Serial Splitter, VSPD XP, etc.). Virtual serial ports created by Virtual Modem Pro are grouped under "Modem serial ports" section. Each virtual serial port is represented by the corresponding entry in this window. You may select the required serial port, simply left-click it.

Control PanelControl panel consists of the following tabs:

Add/Remove Modems

This tab provides functionality to add/remove virtual modems, edit modem's configuration settings, invoke user manual and register Virtual Modem Pro ("Help" button).

"Modem serial port" combo-box allows you to select the virtual serial port you wish to attach new virtual modem to. Totally, you may create up to 255 virtual modems in your system. In case the selected serial communication port does not exist, it will be automatically created by Virtual Modem Pro (no reboot required). Newly created port will be accessible by other applications in the same way as physical serial port.

"Server Port" textbox defines TCP/IP port that local virtual modem will listen to. This port will be used by other hosts (clients) to connect to this PC. You may type any number from 1 to 65535, however, make sure that it doesn't interfere with any other services (DNS, Mail, HTTP, SMB, etc.) in your network. If you are in doubt, please, contact your system administrator to find any free TCP port you may use. In case you are using personal firewall, make sure that specified port is not blocked (see FAQ page for more info). Once the virtual modem is added, it may accept incoming connections on specified TCP port.

To be able to call to remote virtual modem, you must specify remote host's IP address (or Fully Qualified Domain Name) and TCP port (that should match the remote host's one). Type the required parameters in "Host:Port" text fields and press "Set" button. In case you are using personal firewall, make sure that specified port is not blocked (see FAQ page for more info). Once the virtual modem is added and remote host is configured as server, you may establish the link between two hosts.

You may remove virtual modem selected in System Explorer tree by clicking "Remove modem" button. In order to remove all virtual modems in your system, please, click "Remove all modems" button. Please, note these buttons are disabled (grayed) if no virtual modems are present at the system.

"Help" button provides options to launch user manual (you are currently reading), visit Eltima's homepage (requires Internet connection), enter registration code and get brief information about Virtual Modem Pro (version and build number, technical support line, etc.).

Statistics

Statistics tab displays versatile information about virtual serial ports and virtual modems. These include port/modem state, sent/received bytes, serial port configuration settings, etc. In order to select necessary serial port/modem, please, use "Modem port" combo-box. Virtual serial port configuration string consists of 4 or 5 items (if Flow Control is set to None it is omitted), separated by dash

BaudrateDefines serial port baudrate. Possible values are: 110, 300, 600, 1200, 2400, 4800, 9600, 14400, 19200, 38400, 56000, 57600, 115200, 128000 and 256000. The default value is 9600.
ParityDefines parity is one of the following values: (E)ven, (O)dd, (M)ark, (S)pace, or (N)one. By default (N)one is taken.
Data bitsDefines data lengths in a packet. Possible values are: 5, 6, 7 and 8. Default value is 7 bits.
Stop bitsDefines a number of stop bits. Possible values are: "1", "1,5" and "2". Default value is "1".
HandflowDefines flow control value. Possible values are: Hardware (P), Xon/Xoff (X) and None (omitted). Default value is None.