Adding virtual serial ports with VSPD Mobile is not difficult at all. Launch the configuration utility and click

icon in Windows CE or Windows Mobile Pocket PC.
If your OS is Windows Mobile Smartphone, please click left soft key and then "1" button (alternatively, left soft key and select "Add pair" using joystick):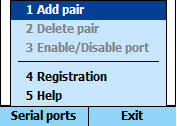 New VSPD Mobile version features improved ports adding procedure. Both types of ports (COM and VSP) are now available for creation at the same time.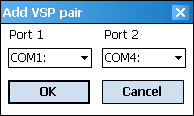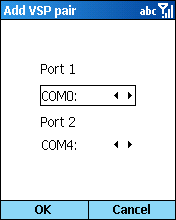 You should only select two ports to be created and click "OK". That's it.
Moreover, virtual serial ports pairs support is now greatly extended. You can create up to 10 pairs at the same time, join VSPx and COMx serial ports and vice versa. Adding a new virtual serial ports pair results in decreasing the number of available pairs to create.