"To Dos" plugin enables you to synchronize Tasks in your device and To Dos of iCal on your Mac.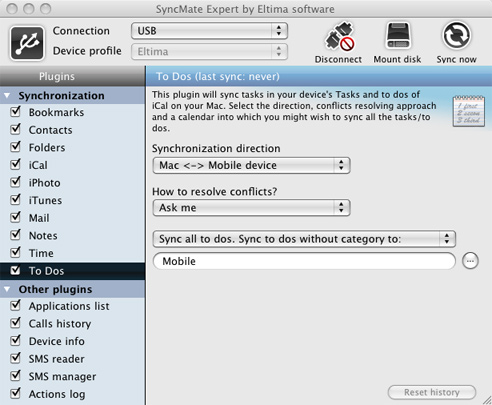 – this index reflects which plugin is available in SyncMate Expert edition only.
Please, read the following information carefully to start the synchronization correctly.
Step 1. Synchronization can be done in three directions:


Both directions
From Mac to mobile device
From mobile device to Mac
Step 2. If some data (name of files, formats, etc.) are changed in mobile device and in Mac at the same time, SyncMate won't know which one has the highest priority. In this case you are able to fix this problem choosing one of three variants of solving the conflict:

Ask me
Use from mobile device
Use from Mac
Step 3. "To Dos" plugin provides you with the ability to synchronize your mobile to dos within one calendar or synchronize all to dos without category to selected folder. Mark the required method using the following checkbox:
Step 4. If you want to delete all your previous synchronization history, please, click "Reset history" button.
Step 5. Finally, click "Sync now" button or choose another plugin for subsequent actions.