Advanced COM Port Redirector is specially designed to deliver maximum usability and comfort to their users. All available controls and options are no more than one click away, making whole process of creation of redirection pairs as quick and simple as possible.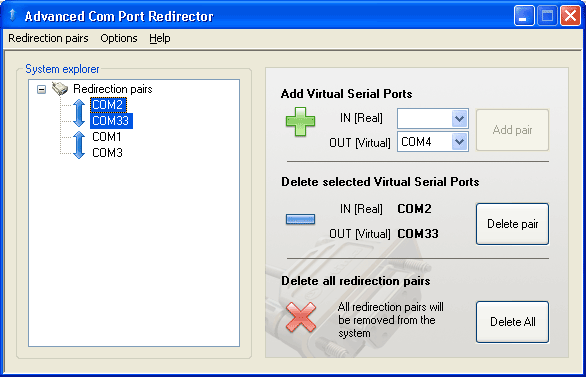 Advanced COM Port Redirector main window could be divided into Main Menu, System explorer and Management pane. Let's overview all available options.
Main Menu

This menu option allows you to add/remove redirection pairs, clear all redirection pairs or exit from the application.

Here you may modify program behavior such as automatically launch the program on system boot and displaying its icon in a system tray.

This menu item provides access to User Manual, lets you visit Advanced COM Port Redirector homepage and get information about latest updates, enter registration code or get brief information about this program.
Main Menu provides convenient access to all program's settings and options at your fingertips:
System explorer represents the list of all available redirection pairs, dynamically updating it if any redirection pair is added or removed. Among other functionalities, System explorer provides the ability to select redirection pair for further deletion.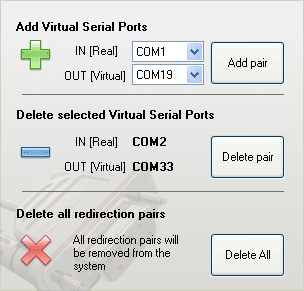 Management pane performs basic operations with redirection pairs. Among them are creation/deletion of specific serial pairs and complete removal of all redirection pairs currently present in your system.