You can download YouTube playlists, setting video conversion into different formats, including MP3, if you don't need the video itself.
In its free version, Airy will download only the first two (2) items of the playlist. The rest of tracks will be queued until you get the licensed version. To be able to use Airy without any limitations, purchase the license: https://mac.eltima.com/youtube-downloader-purchase.html
Note:
Currently, Airy does not download age-restricted videos from channels like Vevo. Also, videos marked as deleted cannot be downloaded as well. Such videos will be skipped, and you will get the corresponding message: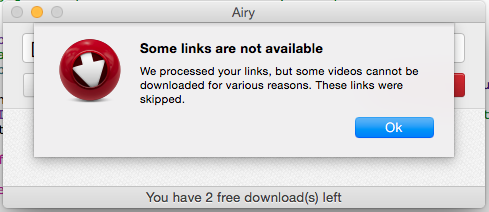 To
download a playlist
, do the following:
1. Copy the YouTube playlist URL and paste it into Airy window.
2. Be patient, parsing may take some time.

3. Once parsing is over, choose the format to save the files into: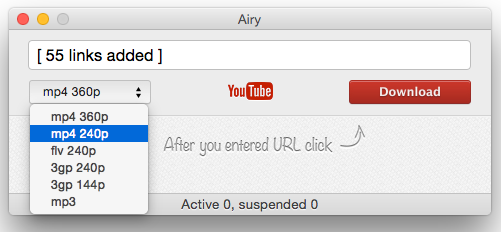 4. Finally, click Download.
Files are saved into Downloads folder of your Mac. You can easily browse to this folder by clicking the magnifying glass icon in Airy window once the download is completed. In Preferences you can set the destination folder for all downloads, as well as for separate files.