This tutorial introduces you a step-by-step guide how to use the Cargo VPN app on your iOS device.
We shall start off with the main screen. At the top of it you can view the server which you are connected to. You can tap on it and choose another one.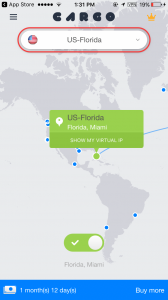 In the middle of the screen, there is a world map where you can view both your real and virtual locations.
By tapping SHOW MY REAL IP you can view your internet connection type, actual IP address, country and city. To view the data about your virtual connection, please tap "SHOW MY VIRTUAL IP".
Note: you also can connect to the server just by selecting it on the map, and tapping on the power button.
At the bottom of the main screen you can view your remaining subscription period, and prolong it.
The menu button in the upper left corner of the main screen opens a side menu, which contains your account details, such as your account name.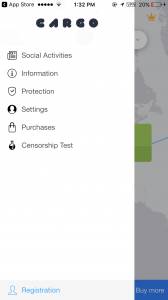 Also, here you will find more functional tabs and buttons, like: